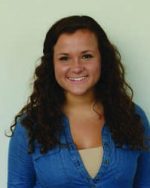 Hometown: Johnsonville, SC
Major/Minor: Mass Communications/Spanish
Why did you come to FMU? I came to FMU because my parents messed up my FAFSA paperwork for USC, and I got scholarship money to FMU.
Why did you want to work for The Patriot? I wanted to work for The Patriot because I've always loved journalism and photography.
Interesting Fact: I've won awards at the South Carolina Press Association for my stories.
Favorite Candy: Heath Bars! English Toffee is the bomb!
Lauren Owens, Editor-in-Chief
Apr 12, 2018

International program adds Irish exchange partner

(Story)

Apr 12, 2018

The Last Chapter: Lauren Owens

(Story)

Mar 08, 2018

A fight in the fitting room

(Story)

Mar 08, 2018

Student trains birds, educates children

(Story/Media)

Mar 08, 2018

Patriot Players host play festival in Black Box

(Story)

Mar 08, 2018

Meet the Athletes: Marie Krüger

(Story)

Feb 15, 2018

Professor Spotlight: Dr. Jacqueline Jones

(Story)

Feb 15, 2018

Quiet purchases speak volumes during Homecoming

(Story)

Feb 15, 2018

Students present research on probiotics

(Story)

Jan 18, 2018

Meet the Coaches: Gary Edwards

(Story)

Jan 18, 2018

Professor Spotlight: Dr. Erica Johnson

(Story)

Jan 18, 2018

Alumnus creates film society, encourages art

(Story)

Jan 18, 2018

Phi Alpha Theta receives national best chapter award

()

Jan 18, 2018

FMU, CCU forms humanities institute with Baruch Foundation

()

Nov 16, 2017

Alumnus creates videography business

(Story)

Oct 19, 2017

FMU begins doctoral program

(Story)

Oct 05, 2017

Professor Spotlight: David Baxley

(Story)

Oct 05, 2017

Big band performs free concert

(Story)

Oct 05, 2017

Meet the Athletes: Devin Nelson

(Story)

Sep 21, 2017

Faculty sponsors essay competition

(Story)

Sep 21, 2017

Student pursues passion for the fashion industry

(Story)

Sep 21, 2017

Walk a mile in their shoes

(Story)

Sep 21, 2017

FMU prepares for Hurricane Irma: Hurricane path shifts to miss South Carolina

(Story)

Aug 31, 2017

Students beat the heat with water games

(Story)

Aug 31, 2017

FMU starts community clinics, serves underserved population

(Story)

Apr 21, 2017

Professor Spotlight: Dr. Leroy Peterson

(Story)

Apr 14, 2017

Meet the Athletes: Emma Driggers

(Media)

Apr 14, 2017

Crosswalk caution

(Story)

Apr 14, 2017

Alumnus starts coffee roasting company

(Story/Media)

Feb 25, 2017

Single mother serves campus, community

(Story)

Feb 12, 2017

The power of speech

(Story)

Feb 01, 2017

FMU faculty march for women's rights: Eight professors take midnight bus to protest inequality

(Story)

Jan 12, 2017

Office of Career Development to be part of CASA

(Story)

Jan 12, 2017

Professor Spotlight: Jeremy Lewis

(Story)

Jan 12, 2017

Professor leaves FMU to become psychiatric nurse

(Story)

Nov 17, 2016

MI Ensemble goes on tour

(Story)

Oct 27, 2016

Professor Spotlight: Shitu Rajbhandari

(Story)

Oct 27, 2016

FMU decides not to make up class days in wake of hurricane

(Story/Media)

Oct 14, 2016

Student interviews celebrities on YouTube

(Story/Media)

Oct 14, 2016

Low voter turnout for SGA elections

(Story)

Sep 22, 2016

Professor Spotlight: Dr. Wendy Caldwell

(Story)

Sep 22, 2016

Gift of singleness

(Story)

Sep 22, 2016

Freshman records original music

(Media)

Sep 21, 2016

Student conquers language barrier, pursues degree

(Story)

Sep 21, 2016
Sep 19, 2016

Luther F. Carter Center for Health Sciences now open

(Story)

Apr 20, 2016

FMU remembers life of classmate

()

Mar 30, 2016

Right Here, Right Now

(Story)

Mar 30, 2016

Professor Spotlight: Dr. Jennifer Kunka

(Story)

Mar 10, 2016

Campus police installs new cameras, dead bolt locks

(Story)

Feb 24, 2016

Organizations march in traditional parade

(Story)

Feb 24, 2016

Grad furthers education in Russia

(Story)

Feb 24, 2016

Meet The Athletes, Richie Ashforth

()

Feb 02, 2016

Private Fears in Public Places

(Story)

Feb 02, 2016

FMU Alumni perform local concert at coffee shop

(Story)

Feb 02, 2016

Student trains dogs, wins awards

(Story/Media)

Jan 15, 2016

FMU students rebuild homes for flood victims in Florence County

(Story/Media)

Jan 15, 2016

Professor Spotlight: Eric Belk

(Story)

Jan 15, 2016

FMU Concert Choir, Cut Time perform

(Story)

Dec 02, 2015

The Social Media Stir

(Story)

Dec 02, 2015

Freshman uses music, battles illness

(Story)

Dec 02, 2015

Community showcases talent in play festival

(Story)

Dec 02, 2015

MI ensemble takes stage at PAC, Students perform '80s music, learn about industry

(Story)

Nov 16, 2015

Music industry ensemble holds teaser concert on campus

(Story)

Nov 11, 2015

FMU celebrates Halloween with music, candy, costumes

(Story)

Nov 11, 2015

TKE, Omega Psi Phi sponsor blood drive

(Story)

Nov 11, 2015

Strength In Adversity

(Story)

Oct 21, 2015

Student's worst nightmare confirms biggest dream

(Story)

Oct 21, 2015

FMU students, faculty endure 1,000-year flood

(Story)

Sep 30, 2015

Student Stress: Just the beginning

(Story)

Sep 30, 2015

Professor Spotlight: Dr. Will Daniel

(Story/Media)

Sep 30, 2015

Country music comes to FMU

(Media)

Sep 30, 2015

Patriots soar past nationally-ranked Hawks

(Media)

Sep 30, 2015

FMU and Florence communities converge through the cosmos

(Media)

Sep 30, 2015

Jags drowns in sea of red

()

Sep 30, 2015

Coalition sponsors student, faculty talent show

(Media)

Sep 30, 2015

New programs for downtown facility

()

Sep 15, 2015

Fraternity holds memorial for victims of 2001 terrorist attack

(Story)

Sep 05, 2015

Aramark: FMU's dining service

(Story/Media)

Sep 05, 2015

Lady Patriots kick off season

(Media)

Sep 05, 2015

Student leadership training

()

Sep 05, 2015

Crow Caws inspire unique undergraduate research

(Story/Media)

Sep 05, 2015
Apr 22, 2015

Lady Patriots battle for PBC tournament bid

(Media)

Apr 22, 2015

Patriot sluggers split in doubleheader, lose series

(Media)

Apr 22, 2015

FMU tennis sweeps in non-conference play

(Story/Media)

Apr 22, 2015

Management class uses sales skills for a cause

(Story/Media)

Apr 22, 2015

Follow your heart

(Story)

Apr 22, 2015

Willams crowned Ms. FMU

(Media)

Apr 22, 2015

Campus prank goes too far, Fraternity pledges arrested for vandalism

(Media)

Apr 04, 2015

RED unites university

(Media)

Apr 04, 2015
Apr 04, 2015

FMU adds Canadian partner

(Story)

Apr 04, 2015

Road work continues

(Media)

Mar 04, 2015

Heritage program interprets history through dance

(Media)

Mar 04, 2015

Money: It doesn't grow on trees

(Story)

Feb 05, 2015

First Semester Reflections

(Story)

Feb 05, 2015

UPB hosts Ultimate Mingle

(Media)

Feb 05, 2015

Students gather for weekly worship at BCM

(Story/Media)

Feb 05, 2015
Feb 04, 2015

Multicultural Advisory Board hosts Holocaust rememberance

(Media)

Jan 14, 2015

Patriots fall to Flagler, still winless in PBC play

(Media)

Jan 14, 2015

Lady Patriots march through Saints, 68-52

(Media)

Jan 14, 2015

Begin with the end in mind

(Story)

Jan 14, 2015

Students spread gospel in Greater Cleveland

(Media)

Jan 12, 2015

Nursing pinning ceremony recognizes 36 graduates

(Media)

Nov 22, 2014

To Vote or Not to Vote

(Story)

Nov 22, 2014

Seniors display choice artwork

(Media)

Nov 22, 2014

Pee Dee Fiction and Poetry Festival thrives: Award-winning authors attract record attendance

(Media)

Oct 30, 2014

PAC explores outer space through music

(Media)

Oct 30, 2014

ZTA bake sale sweetens breast cancer cause

(Media)

Oct 30, 2014

FMU welcomes incoming students; Over 200 prospects attend campus tours, seminars

(Media)

Oct 10, 2014

Volleyball splits in PBC action

(Media)

Oct 09, 2014

Late Night Oct Activites

(Story)

Oct 09, 2014

NYC actors present Muse at PAC

(Media)

Oct 09, 2014

Grant graces Preforming Arts Center

(Media)

Oct 09, 2014

Francis Marion celebrates Hispanic Heritage Month

(Media)

Sep 20, 2014

FMU volleyball breaks even at Patriot Invitational tournament

(Media)

Sep 20, 2014

Red Cross Bloodmobile stops at FMU

(Media)