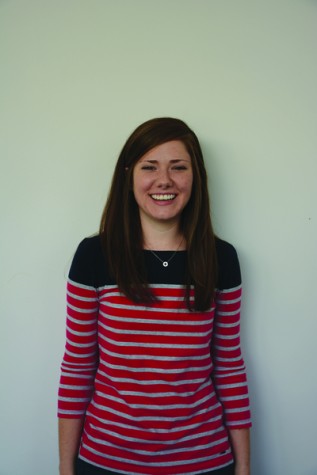 Hometown: Darlington, SC
Major/Minor: Mass Communication/Spanish
Why did you come to FMU? I like the thought of going to a smaller school and forming relationships with my professors and classmates.
Why did you want to work for The Patriot? I enjoy writing and wanted professional work experience.
Interesting Fact: I can juggle a Chinese yo-yo.
Favorite Candy: Kit-Kat!
Rebecca Cross, Copy Editor
Apr 20, 2017

Ms. FMU seeks to promote self-confidence

(Story)

Apr 20, 2017

Organizations raise social awareness: Student leaders encourage peers to promote change

(Story)

Apr 05, 2017

VITA tax help returns to FMU

(Story)

Apr 05, 2017

FMU recognized for graduation rates: Percentage of African American grads acknowledged

(Story)

Feb 26, 2017

Meet the Athletes: Tee Dubose

(Story)

Feb 26, 2017

Men's, women's basketball teams take victories during senior night against Lander

(Story)

Feb 26, 2017

Fake news is nothing new

(Story)

Feb 25, 2017

Intramural teams participate in Patriot Games

(Story)

Feb 12, 2017

Meet the Athletes: Mauricio Guerrero

(Story)

Feb 12, 2017
Feb 06, 2017

Musicians perform "An Invalid's Sonnet" at FMU

(Story)

Feb 02, 2017

Involvement fair introduces students to campus organizations

(Media)

Jan 13, 2017

Meet the Athletes: Detrek Browning

(Story)

Jan 13, 2017
Jan 12, 2017

First class graduates with new health care degree

(Story)

Nov 18, 2016

ZTA hosts second annual 5K

(Story)

Oct 30, 2016

Meet the Athletes: Aaron Robinson

(Story)

Oct 06, 2016

Hispanic Heritage Month celebrates cultural unity

(Story)

Sep 22, 2016

Engaging our differences

(Story)

Sep 21, 2016

Comedian visits FMU

(Story)

Sep 21, 2016
Apr 20, 2016

Students relax at MAB's Cultural Block Party

(Story)

Mar 30, 2016

Communication students travel to Washington, D.C.

(Story)

Feb 24, 2016

FMU professors write a musical

(Story)

Feb 02, 2016

FMU Athletics sponsors trick shot competition

(Story)

Jan 15, 2016

Campus Police train RAs

(Story)

Nov 11, 2015

…Because It Look Like Work

(Story)

Oct 21, 2015

FMU to present William Shakespeare's "The Tempest"

(Story)

Sep 30, 2015

German professor teaches art workshop at FMU

(Story)

Sep 30, 2015

Country music comes to FMU

(Story)

Sep 30, 2015

Foreign four experience German culture

(Story)

Sep 05, 2015

Professor spotlight: Dr. Barry O'Brien

(Story/Media)

Sep 03, 2015
Apr 22, 2015

McDonald's gives me hope

(Story)

Apr 04, 2015

For the love of learning

(Story)

Apr 04, 2015

Visual arts students receive awards, recognition

(Story)

Apr 04, 2015

FMU leadership conference

(Story)

Apr 04, 2015

Spanish department provides online options

(Story)

Mar 04, 2015

FMU community tackles taxes

(Story)

Mar 04, 2015

Online nursing program earns praise, recognition

(Story)

Feb 05, 2015

Involvement Fair helps students spring into action

(Story)

Feb 04, 2015

Campus gathers to celebrate life of Dr. King: Speaker inspires audience to live with purpose, vision

(Story)

Jan 14, 2015

FMU students attend conference in Ind.

(Story)

Nov 22, 2014

Seniors display choice artwork

(Story)

Oct 30, 2014

FMU welcomes incoming students; Over 200 prospects attend campus tours, seminars

(Story)

Oct 09, 2014

Francis Marion celebrates Hispanic Heritage Month

(Story)

Oct 09, 2014

Four professors receive Trustees' Research award

(Story)

Sep 20, 2014

Rhodes on display at Hyman Fine Arts Center

(Story)

Aug 27, 2014

Donation funds education and health ventures

(Story)

Aug 27, 2014

Health sciences move downtown: New facility construction to begin in 2015

(Story/Media)

Apr 10, 2014

Spring fest provides fun, food, games

(Story)

Apr 10, 2014

Sutton presents eighth Moran Address

(Story)

Apr 10, 2014

International arts festival to celebrate culture

(Story)

Mar 26, 2014

Wi-Fi installation progresses

(Story)