Professor Spotlight Dr. Paolo Gauldi : Gualdi shares his musical "Pasion" with CD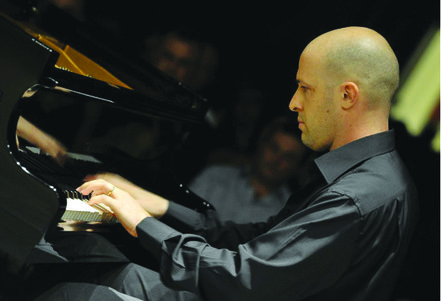 Dr. Paolo Gualdi, assistant professor of music, has released a new CD entitled "Pasión" with a world-renowned opera performer.        
This past June, Gualdi traveled to France to record "Pasión" with mezzo-soprano Kirstin Chavez.  The CD has now been published by the German label IFO Classics.
Gualdi said he "could not believe his ears" when Chavez invited him to record a CD with her in France.
"Kirstin and I started our collaboration three years ago, and we have found an incredible musical chemistry between us," Gualdi said.  "We have performed several recitals both in the U.S. and France.  I consider her to be one of the most sensitive and talented musicians I have ever heard in my life, and to play with her is an honor and always an immense pleasure."
Gauldi said the CD features a wide variety of Spanish songs, from traditional works to contemporary, including the world premiere recording of composer Tobias Picker's "Quatro Sonetos" and jazz rendition of Spanish folk songs.
Although he performs classical pieces written by "the great masters of the past," Gualdi said he also enjoys improvising at the piano, either freely or on jazz standards.
"It is a very liberating process, and it is literally composing on the spot," he said. "It can take you anywhere."
Gualdi said his interest in music began during his early youth and credits his father for exposing him to the piano.  
"Since a very early age, I was exposed to classical music," he said.  "We used to have LPs [Long Play, vinyl records] with music by Mozart, Beethoven, Schubert and other great composers.  I used to spend long amounts of time in front of the speakers conducting the music, but instead of being a conductor, I was eventually more drawn to the piano."
Gualdi's father is a pianist and singer.  Gualdi said he has been told that around 4 or 5 years of age, he began "spying" on his father behind the door while he was teaching students at home.
"After having shown a strong interest toward the instrument and having been warned about the challenges of learning the piano, I was finally allowed to start taking lessons with my father when I was 5," he said.
Like his father, Gualdi also wanted to teach music and has been doing so at Francis Marion University (FMU) for five years.
He said what he finds most rewarding about teaching music is sharing what he has learned about the art and having the opportunity to inspire his students to explore their potential.
      "I had the privilege to study with wonderful teachers, and each one of them shaped me musically and personally," he said.  "I love the fact I can pass on whatever I have learned from these masters and hopefully, inspire my students to consistently aim to give the best they can and be hungry for musical discoveries."
      "Pasión" is currently available on Amazon, iTunes and all other vendors worldwide; it can also be purchased from Gualdi.
For more information about "Pasión," contact Gualdi at pgualdi@fmarion.edu or visit his website at www.pagualdi.com or Chavez's website at kchavez.com.