Professor Spotlight: C. Allan Lockyer – Geography professor beats cancer, runs on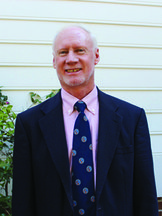 Many students tend to view geographical studies as "just learning a map," and it often gets pushed into the category of another stale, tedious general education course. But to geography professor Dr. C. Allan Lockyer there is much more to the discipline than meets the eye.
"Geography isn't only about the location of a place, its also about the character of that place," Lockyer said. "It's both a physical and a social science."
The study of geography covers everything from geology, weather and climate, vegetation, to varying human interests such as ethnicity, religion, types of governments, elections and beyond, Lockyer explained. Think of almost any aspect of life, there is a geography behind it that is constantly changing.
"If you really think about it there's never a dull moment in geography," Lockyer said. "There's always something happening; it's constantly fascinating."
Lockyer explained the geography can be applied to a wide array of career fields as well. For example, a meteorologist must know the climates of certain areas to accurately present the weather forecasts; or a real estate agent needs to know a range of geographical facts about an area in order to successfully sell homes. This concept can be applied to countless careers and areas of study.
"I've always been curious about different places, and had a love for all sorts of maps," Lockyer said. "So geography has always seemed natural to me."
Outside of academia, Lockyer has a passion for cross-country running and was a serious competitor in many marathons from 1969-2009, averaging around 70 to 80 miles each week. He's completed over 50 long distance marathons in total, including five Boston Marathons, with a personal best time of two hours and 44 minutes.
He continues to run on a daily basis but has had to cut back on the amount because of a shattered knee from a nasty fall in 1999 and a life-threatening bout with prostate cancer in 2009 that required major surgery to remove.
"After agreeing to the surgery, I asked the doctor  'when can I start running again?' and he told me six weeks," Lockyer said. "I'd never missed that much running before…and I haven't been able to run quite as far since then."
Lockyer was able to recover from the surgery fairly quickly and returned to running as soon as the doctor permitted. Despite his previous health complications, Lockyer rarely misses a day of running and still runs an average of 30 to 35 miles each week.
Along with cross-country running, Lockyer has a passion for non-fiction creative writing as well. He's had four books published, more than 80 essays and articles published, written for literary journals and he occasionally contributes to a newspaper in Maine.
For Lockyer, running, writing and geography often go "hand in hand." He views these leisurely activities as way to escape the mundane weekly routine.
"If you're a runner and a writer, you tend to be somewhat introverted and have plenty of time to think," Lockyer said. "You also have plenty of time to experience the landscape and the weather."
Lockyer has been at Francis Marion since 1986 and has no plans of leaving the university. He also enjoys spending time with his lovely wife and beloved border-collie.
He would also like to urge all men to have their prostate checked regularly; it can potentially save your life. He said that if you wait around for symptoms to show up, it may be too late.