Jokisch named FMU's Distinguished Professor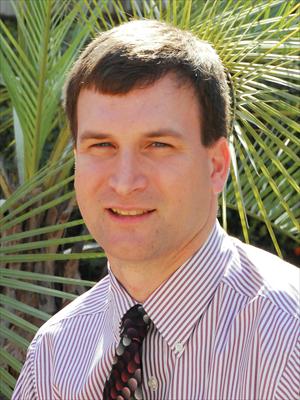 Derek Jokisch of Florence has been selected the J. Lorin Mason Distinguished Professor for the 2010-11 year at Francis Marion University.
Announced at a campus banquet April 21, this award has been given since the 1975-76 school year and is based upon a faculty member's contributions to teaching, professional service and scholarly activities.
The award, named in honor of a former chairman of the FMU Board of Trustees, is the highest honor to be bestowed upon a faculty member. It will be presented at FMU's spring commencement Saturday, May 7. The award carries a cash prize. As a result of his selection, Jokisch will be the Francis Marion University nominee for the Governor's Professor of the Year Award competition next fall.
"This award is the highest honor that a faculty member can achieve at FMU. The recipient is chosen by a panel of honorees from previous years. So it is, in a sense, our very best professors selecting the professor of the year," said FMU President Luther F. Carter. "And by every measure, Derek is richly deserving of this recognition. He is an accomplished scholar, a master teacher and one of the most compassionate people on this campus."
A native of Carlinville, Ill., Jokisch has been a member of the FMU faculty since 1999.  Jokisch received his bachelor's degree in nuclear engineering from the University of Illinois, and M.S. and Ph.D. degrees in health physics from the University of Florida as a Department of Energy fellow. He is certified in comprehensive practice by the American Board of Health Physics and a leader of the Health Physics Program at FMU, which has consistently ranked as one of the top undergraduate programs in the nation.
Jokisch helps coordinate internships for his students at nuclear facilities such as the Savannah River Site and other nuclear power plants. He has served on the Health Physics Society Academic Education Committee as a member, co-chair, and chair. He has collaborated with the University of Nevada (Las Vegas) and the University of Florida on multiple research grants, authored or co-authored 16 peer-reviewed journal articles, and serves as a corresponding member on the International Commission on Radiological Protection Committee 2-dose calculation subgroup as an expert on internal dosimetry.
For his work, Jokisch received the Award for Excellence in Research at FMU in 2006. Jokisch was also presented the highest honor one can receive in the area of health physics, the Elda E. Anderson Award for 2010 by the National Health Physics Society for his research contributions.
In addition, he has led and participated in multiple programs that assist K-12 public school science teachers across the state of South Carolina.
He and his wife Kelly have one child.