John Sweeney: From the theatrical to the political stage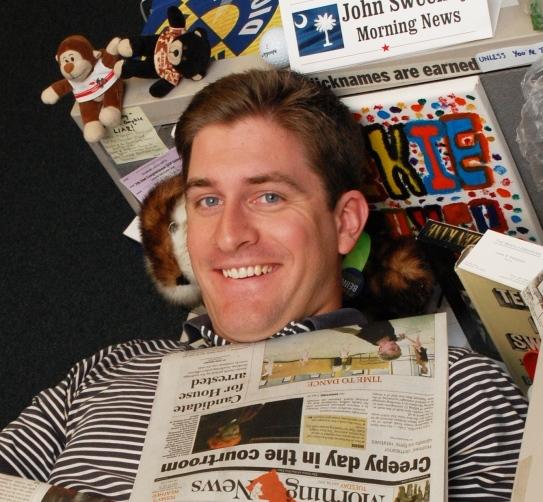 Upon meeting John Sweeney, a Francis Marion University Alumni, one of his most noticeable characteristics is his confident and theatrical personality.  Since his graduation from FMU, this actor has taken to the political stage and is now a political writer for the Florence Morning News.
            During his college years, Sweeney wrote for The Patriot, Francis Marion's student newspaper.  Additionally, he worked in the writing center.  Theatrically, he did some acting as a theatre minor.
            He kept a foot in the political waters by traveling to New York with a model United Nations team.  He also spent a semester in Washington D.C. at the Republican National Committee. Sweeney graduated from FMU in 2009 with a Bachelor of Arts degree in mass communication and theatre.
            According to Sweeney, his first involvement in politics was around the time of the 2000 presidential election. He recalls that there was an assembly at his school where one student played the role of George W. Bush while another played Al Gore.  The students wrote speeches to determine who would play which part.  Sweeney wanted the role of Bush, however, he didn't get it.
            "But I was so theatrical and so engaging," Sweeney said, "they asked me if I would do a speech for Ralph Nader instead."
            Sweeney said that although he didn't support Nader, he used it as an opportunity to dye his hair gray and "wear a frumpy suit."
            During the assembly, he played the part to the fullest.  Sweeney brought out a Kermit the Frog, saying "it isn't easy being green," in reference to his position in the Green Party.
            "I kind of just try to do something unusual that hopefully people like and gets them engaged," Sweeney said with a laugh.
            After graduation from FMU, Sweeney sent out résumés to many different employers.  A fellow student working at the Florence Morning News mentioned she was leaving and recommended Sweeney to take her place.
            Sweeney thought he was going in for a part-time job, but was given a big surprise at the interview.
            "I thought I was doing this writing thing," Sweeney said. "But just before she opens his [James Bennett, editor] door, she turns to me and says 'Now you're here for the Hemmingway editor job, right?'"
            Sweeney got the job and worked as the editor for Hemmingway's The Weekly Observer for the next two years.  Sweeney brought the paper into a new generation by setting up a Facebook page and starting a Youtube channel.  He left high standards for the next editor, who is also an FMU graduate.
            Of his opportunities, Sweeney recalls some family wisdom.
            "My parents always told me that if a situation presents itself, go with it until you can't anymore."
            Sweeney's writing in Hemmingway had a strong focus on politics, which caught the eye of Tucker Mitchell, the current editor for the Florence Morning News.  Mitchell offered Sweeney a political writing job to amp up their political coverage.
            Over the next year, Sweeney went on to cover political stories and campaigns.  One of his more recent prides was his 7th Congressional race coverage.
            According to Sweeney, he enjoys writing a certain type of story most.
            "The thing I love most is when I can cover a situation as it evolves," Sweeney said.  "When it's a comment at a council meeting that ends up as this huge controversial conclusion of an ordinance or someone resigning."
            Sweeney stays busy with interests outside of the newsroom as well.  He plays golf and considers himself a "movie buff."
            He said he has plans for his future and hopes that he can achieve his goals fearlessly.  Sweeney encourages aspiring writers to stay active by being bold and taking every opportunity, and not to be afraid of failure.
            "If you're going to do something like this, whether it's writing . . . television production . . . radio, whatever, find a way to do it," he said.
             According to the accomplished alumni and Florence Morning News political writer, the key is to be daring and get the big mistakes out of the way as fast as possible.
            "Even if it's just having your own Youtube channel or interviewing your mom or your neighbor," he says,  " . . . be bold and go out and do stuff."