Student dances with the stars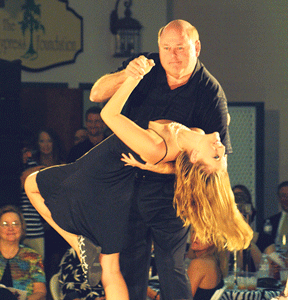 Senior mass communication major Mariel Webster will participate in Dancing With the Stars of Florence, a fundraiser for the FSD1, at 6 p.m. on April 11th at the SIMT building.
Webster has been dancing for 18 years and competitively for 12 years. She enjoys teaching the stars how to dance and performing their routine for the day of the fundraising event.
"It is a great way to give back to the community by doing something I love," Webster said. "I love teaching dance, so the more opportunities I have to teach, the happier I am."
This fundraising event includes dancers who are called professionals and stars. Professionals are dancers who have key experience in dancing. They include individuals from Kelley's Fine Arts as well as local professionals in the community.
Stars include well-known individuals around the area such as businessmen and women, doctors, lawyers and city council representatives. Some of the stars at this year's event are former Lt. Governor Ken Ard, the president of Honda Motor Inc. Brian Newman and SC highway patrol captain Jo Nell.
While the city of Florence has been hosting the event for three years, this year marks Webster's second year as a "professional" in Florence. However, she also danced in the Clarendon County Dancing With the Stars in 2011. Florence got the idea from Clarington County. Executive Director Debbie Hyler helps put on this event. She said she enjoys watching the couples's progress throughout the entire process.
"It's fun watching people who are your peers and who you really admire that have the guts to go up there and take a risk," Hyler said.
Hyler also said that since they have started the event, they have donated 711,000 dollars to the educators.  They raise money through ads, votes, and tickets for the event.
There are 12 couples in this year's event. They are asked to prepare for a routine that is 90 seconds long. Fans can vote on the couple at the event or on the website by paying 10 dollars for every vote.
Ticket price for the event is 75 dollars per ticket or 1,000 dollars per eight seat table.