Aramark: FMU's dining service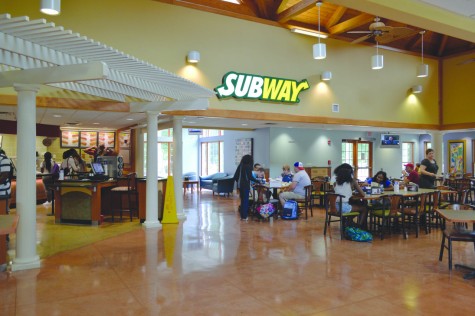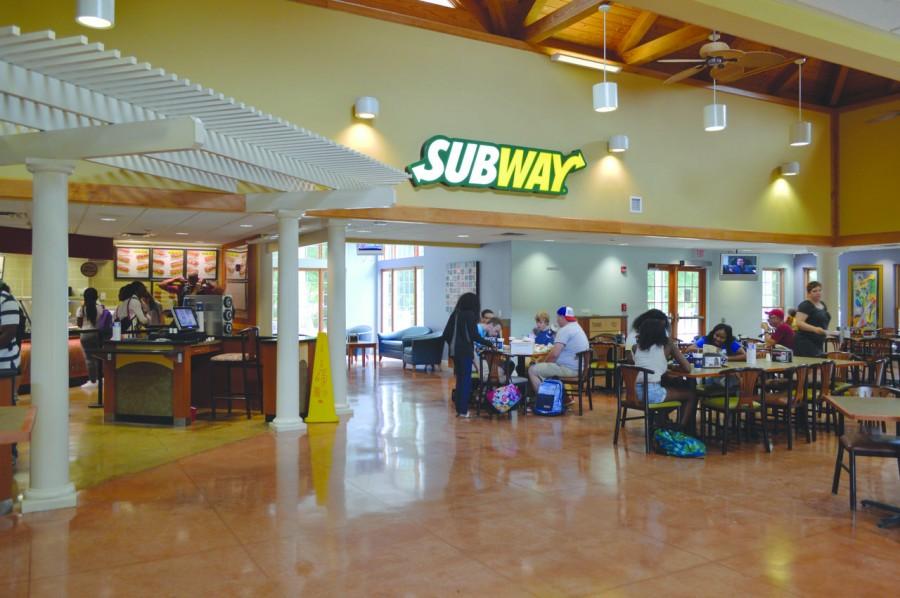 FMU signed a food service contract effective this fall with a new food service provider, bringing new dining options to students and staff.
In April of 2015, FMU signed a seven-year contract with Aramark Corporation creating a new system for on-campus dining, including the addition of the Cauthen's Café, which serves Starbucks, and Subway to campus this fall.
The decision to have a new food service provider came through a government-required protocol, called procurement, for state-funded university purchasing services.
Procurement is enforced to ensure that universities in the state are making purchases that are environmentally and financially sound.
"South Carolina's government seeks to further reduce the environmental and human health impacts of its operations by integrating environmental considerations into its procurement process," according tothe State Fiscal Accountability Authority Procurement Services website.
At the end of FMU's contract with Sodexo, the university was required to choose a different company. Sodexo had the opportunity to compete for the contract to continue servicing our university; however, the only two companies that competed were Aramark and Chartwells.
"The formal solicitation process took about 8 months and was directly controlled by the State's central purchasing division, the Material Management Office," Eric Garris, director of purchasing for FMU, said. "The process began with the state issuing a solicitation that described the dining services' needs at FMU in great detail. Companies then sent in a proposal, again in great detail, that explained their approach to providing dining services at FMU. A committee scored each proposal with the highest scorer being awarded the contract. Aramark was the winner."
The Cauthen's Café, which most students call Starbucks, is located in the Cauthen Educational Media Center (CEMC). Cauthen's Café is open Monday through Friday from 7:30 a.m. to 2:00 p.m. The Subway and Grille Works are located in The Grille. Grille Works will be open from Monday to Friday, serving breakfast from 9 a.m. to 11 a.m. and lunch from 11 a.m. to 11 p.m. The Subway is open from Monday to Friday from 11 a.m. to 11 p.m. and Saturday to Sunday from 5 p.m. to 11 p.m.
There are also plans for an on-campus convenience store located in Ervin Dining Hall.
"We are adding a P.O.D. to Ervin Dining Hall for the Spring Semester," John Williams, general manager of campus dining services said. "The P.O.D. stands for Provisions on Demand. This is our version of a convenience store much like a Scotchman, 7-11, etc. You will be able to purchase drinks, snacks and toiletries for you to have in your room. This location, too, will accept Patriot Bucks from your meal plan."
With all the change happening at FMU, the dining hall menu will stay relatively the same. The Ervin Dining Hall will still continue to serve fried chicken on Wednesdays, and other campus favorites will remain in place.
"We have a four-week cycle menu that changes each semester," Williams said. "Some campus favorites stick around while others may step aside for something a little different."
New meal plans are available for purchase. Students living in the residence halls are able to either purchase the All Access or All Access Plus meal plan. The All Access Meal Plan gives students unlimited meals with $25 of Patriot Bucks, and the All Access Plus meal plan gives students unlimited meals with$150 of Patriot Bucks. Students living in the on-campus apartments or off campus can now buy a meal plan with 50, 80 or 160 meals per semester. Students can also purchase $300 in Patriot Bucks from theuniversity. With this dining option, students get $30 of Patriot Bucks.
For more information concerning on-campus dining refer to https://fmarion.campusdish.com.