FMU community returns to campus
University welcomes back students, faculty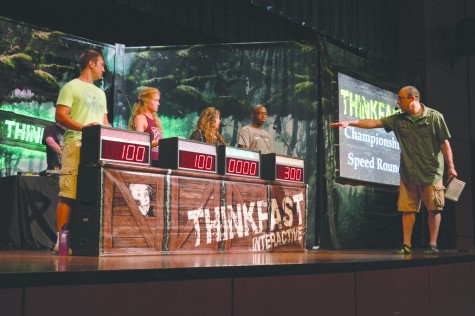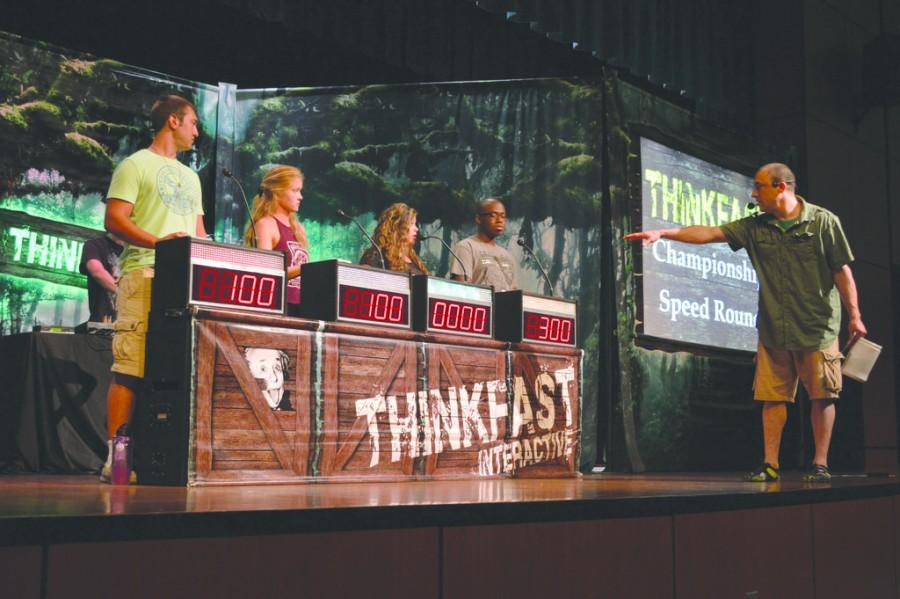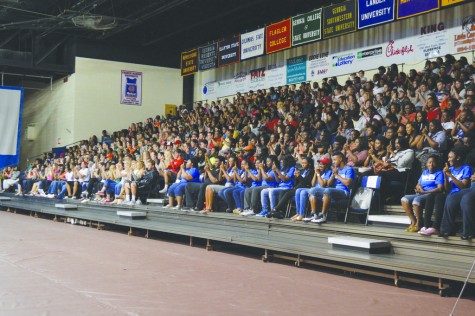 FMU's Welcome Week serves as a way for new students to create friendships and old friends to reconnect through different events.
Welcome Week began on Aug. 22 with freshman move-in day and Jammin' at the GAC.
The Student Government Association (SGA) hosted a pool party on Aug. 23 at the outdoor pool by The Grille. UPB began planning the event in May. Watts, a senior music industry major, was the disc jockey (D.J.) for the event.
"When it comes to choosing music, I choose songs that are current and great for the season," Watts said. "I play music that all crowds will like."
The students danced and swam to the music he played. They met with old friends and made new ones. Rico Mims, a sophomore mass communication major, and Kerry Czerkawskyj, a sophomore psychology major, agreed that a pool party was a good event for Welcome Week.
"A pool party gets everyone together and out of their dorms," Czerkawskyj said. "It's a last hoorah before classes start.
"It is great to have a pool party to get the students to bond," Mims said.
SGA provided food, and Rita's gave students free Italian ice.
On Monday, Aug. 24, the university held an interactive game night in Chapman Auditorium called "Think Fast."
Students were given a remote with numbers and a send button. The students were allowed to create their own teams, and each team's name scrolled across the screen so individuals could join whichever team they wanted. Students didn't always know what their teammates looked like, but the team worked together to earn points.
When the teams were ready, a question would pop up on the screen with five possible answers, and a participant would select a number on their remote, receiving points for correct answers.
"You are really engaged in activity to get your mind thinking," Somoya Foy, a freshman biology major, said. She also said it would be good to, "Give people more time to get there, so they can play longer."
"We did this just to show that the campus isn't as dry as everybody thinks it is," Jolethia Robinson, senior psychology major and UPB member, said. "[We wanted] to show that we can have fun and that we can all get together to participate in an activity."
She also explained that UPB has been planning this for months.
"We started planning towards the end of the [spring] semester," Robinson said. On Tuesday, Aug. 25, UPB hosted a comedy show featuring comedian Mo Amer in Chapman Auditorium.
"I've been doing this since I was 14, almost 20 years," Amer said. "I started at little hole-in-the-walls, comedy clubs and open mics." "I think that stand-up is a protest art form; it is intended to point out the absurdities around you, and you can say a lot through the guise of stand-up," Amer said.
Many students had a good reaction to his comedy show.
"I just wish the show was a little longer," Kelli Polatty, a freshman nursing major said.
On Wednesday, Aug. 26, UPB showed Furious 7 on the UC lawn on a large projection screen. Students brought their own lawn chairs and blankets.
"It's an awesome experience for people to spend time together rather than spending money at a movie theater," Brittney Porter, a junior mass communication major, said. "[Furious 7] has different twists, and it's something everyone could relate too."
Thursday evening, Aug. 27, the UC lawn was filled again with people as Iota Phi Theta hosted a yard show that featured different Greek organizations speaking or performing.
"I was hoping that [students] would get information that college life is not just books and teachers, but experience as well," Donny Pearis, senior mass communication major and emcee, said. "We want to get people to see what FMU can offer them, so that FMU can have a more diverse, more involved student body."
Friday was the Mocktail Mixer hosted by the Housing Office in the Octagon. The mocktails were Shirley Temples, Mockmosas and Puritan's Prides.
Campus police gave alcohol and driving awareness information, too. Goggles were placed on students to show what drinking during the day would be like if they were driving. They had the nighttime goggles, too, which were designed with a higher alcohol level.
"We came out to educate the students on drinking and driving," police Sgt. Tracey Tolson said. "Younger people tend to think they're invincible. The daytime and nighttime goggles is a great simulation tool that shows them it is not easy to pass a sobriety test. We also want to get to know freshmen and returning students."
Some of the tasks given to students wearing goggles were to touch their nose, catch a medium-sized ball, or find the ball after it was dropped.
The final Welcome Week event was on Sunday in the UC gym. Hypnotist John Greene entertained and amazed students as he performed his mind tricks. FMU's Welcome Week has become a tradition that makes students excited for the year and helps create lasting friendships.