Coalition sponsors student, faculty talent show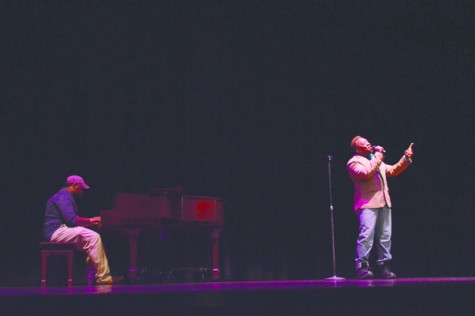 On Thursday, Sept. 17, the African American Faculty and Staff Coalition (the Coalition) hosted their second annual talent show and raised approximately $500 for their scholarship program.
With more than 260 people in attendance, the talent show featured nine acts – seven student acts, one act from an FMU faculty member and a duet by two members of the Coalition.
The money raised through the event went to support the Coalition's three scholarships: the Dr. Joseph E. Heyward Scholarship, the Ms. Rebecca S. Lunn Scholarship and the Dr. Leroy "Pete" Peterson Scholarship.
Arthenius Jackson, the administrative assistant for the School of Business and vice president of the Coalition, was the emcee for the event. Jackson introduced each act and had the audience participate in a singing round and a dance contest in between performances.
"I think it was a great turn-out," Jackson said. "I was pleased and satisfied with all of the participants. Last year when we did [the talent show], we really only had four people who signed up."
The talents were judged, and prizes were awarded for first, second and third place. The judges were Dennis Sullen, a library technical assistant; Vashon Brown, director of network operations and systems; and Demetra Pearson, a technical services librarian.
First place went to the Praise in Motion dancers who performed to "Stand" by Donnie McClurkin. Praise in Motion is comprised of about 20 students ranging from freshmen to seniors.
Second place was awarded to Brook Mogy, a senior theater major. Mogy recited a poem she wrote about pushing forward and using every drop of talent someone has.
Third place went to Datuan Johnson, a junior marketing major. Johnson performed an original rap, "Patriots," that was a tribute to FMU.
Other performances included Desmond Broadnax, a senior political science major, who performed spoken word while playing the piano; John Gee, a sophomore visual communication major, who danced; CurkRoy Brown, a senior music major, who sang "Hold Me" by Janine and the Mixtape and was accompanied by senior political science major Alex Smoot on the piano; and Tasia Phillips, a freshman music industry major, who sang "Listen" by Beyonce.
Each performer had the opportunity to choose what talent they would showcase.
"I selected [my] song because I wanted to do something more intimate, something that wasn't as high energy," Brown said. "Singing is my passion. It's what I love to do and what makes me the happiest."
"The Coalition would like to continue to make an effort to showcase local talent within our campus community," Dr. Daphne Carter-McCants, assistant dean of students and president of the Coalition, said. "The talent show provides us with an opportunity to reach out and connect with students."
The Coalition will hold its annual scholarship banquet on Friday, Feb. 19, 2016, and will announce their 2015-2016 scholarship recipients at the banquet.