Country music comes to FMU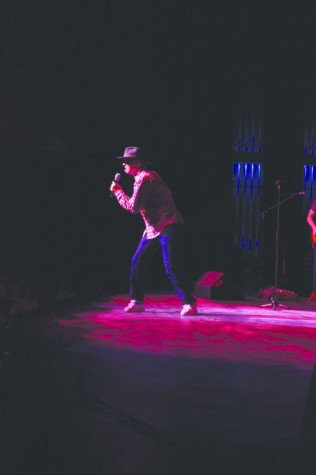 Award-winning country music group Sawyer Brown played at FMU's Performing Arts Center (PAC) on Saturday, Sept. 26.
The band opened the show with "Six Days on the Road," and the audience clapped to the beat of the up- tempo country tune.
Sawyer Brown's live- performance show attracted a variety of spectators from FMU and the Florence community, one of whom is South Carolina Sen. Hugh Leatherman.
"They have more energy than you normally see out of performers," Leatherman said.
Since Sawyer Brown began performing together in the early 1980s, they have accumulated a large repertoire of music. The band played a variety of selections: old, current, up- tempo and down-tempo.
During the show, lead singer Mark Miller also told a few stories about the band's time together as they have traveled and recorded through the years.
Sawyer Brown has recorded 23 albums and won awards at the Country Music Awards, Academy of Country Music Awards and Country Music Television. Also, 50 of their singles have been chart hits.
Laura Sims, director of the PAC, said that after a series of summer performances, which included rock and pop artists, the PAC wanted to include a different genre of music – country.
"Country acts have been very popular in the Pee Dee, and Sawyer Brown has a strong history in country music," Sims said.
Florence resident Lisa Worley has now seen Sawyer Brown perform 15 times and was excited to see them perform in her hometown.
Sims said that she encourages students to take advantage of the opportunity to see live performances at the PAC, even if they are not familiar with certain artists.
Drew Poston, a freshman political science major, said that he was not familiar with Sawyer Brown until attending the concert at the PAC and went to get credit in his Music 101 class.
"It's not my usual kind of music I listen to, but it was good," Poston said.
Poston also said that he enjoyed the beauty of the PAC building and the atmosphere it provided.
In the past few years, the PAC has attracted performers such as Amy Grant, Lyle Lovett and Christopher Cross.
Sims is involved in choosing which acts will perform at the PAC.
"I attend various conferences and speak to agents on a regular basis about which artists are currently touring, and a team of leaders within the university and I work together to determine who performs," Sims said.
Leatherman said that before the PAC opened, Pee Dee residents would frequent bigger cities, like Charleston, Columbia and Charlotte, to see shows. However, now the PAC attracts members of the Pee Dee and surrounding areas.
"It [the PAC] allows us to have something we've never had before," Leatherman said.
Not only does the PAC host touring shows but it also provides a stage for FMU students to perform on.
Some shows at the PAC are student ensembles, such as the Music Industry Ensemble, which performs at the end of each semester.
"[Students will] have the opportunity to see their fellow FMU students on the stage," Sims said.
Shows range in price, and some are free to FMU students. Students only need to show their student IDs.
For a complete list of the upcoming fall shows at the PAC, visit http://www. fmupac.org.