FMU president host honor students, faculty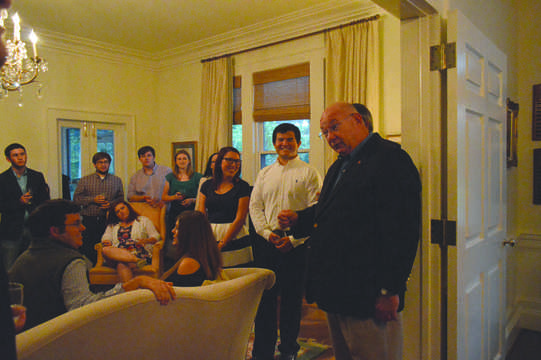 The FMU honors students and faculty gathered together in the Wallace House for the annual honors reception on Thursday, Sept. 24.
Each year FMU President Dr. Fred Carter invites members of the honors program into his home for hors-d'ouevres, socializing and Honors Student Advisory Council (HSAC) nominations.
"The reception is held to make sure they all have a chance to meet one another and to create a community that will continue during their four-year career and simply so that they can get to know Dr. and Mrs. Carter," Dr. Jon Tuttle, director of the honors program, said.
Stephanie Bosch, former FMU HSAC president, said she met some of her closest friends through her involvement in the program's trips and classes.
"The best part about being honors president was getting to know honors students and faculty at a deeper level," Bosch said. "The opportunity to travel with fellow honors students and faculty has been a rewarding and memorable part of my college experience."
The program takes 40 honors students each fall to a major U.S. city. This November, the program will travel to Washington D.C. for four days. The fall trip provides students with the opportunity to see national landmarks and experience the city on their own.
During the spring semester, the honors program takes a group of four student ambassadors-one senior, junior, sophomore and a fourth student from any class-to another country for spring break. They visit different universities to set up new foreign exchange programs and maintain relationships with already existing programs.
This year, Tuttle and Dr. Charles Jeffcoat, associate professor of art and visual communication, will travel to Germany with the four ambassadors visiting four towns including one of FMU's exchange partners, University of Koblenz at Landau.
During the honors reception, Tuttle announced upcoming honors courses including "The Brothers Grimm: From the ancient world to Disney World" taught by Dr. Peter Whelan, "The neurobiology of crime" taught by Dr. Shayna Wrighten and "Utopias and Dystopias" taught by Dr. Pam Rooks.
According to Tuttle, courses are designed to allow students to take honors classes that will fill general education requirements while giving students the chance to study topics they would not have the chance to otherwise.
"The primary goal is to offer these students a rewarding and enriching undergraduate experience," Tuttle said.
Many freshmen have taken advantage of the opportunities the honors program offers.
Freshman history major Jake Pack said he originally did not plan on joining honors when coming to FMU. After hearing about the specialized classes, living accommodations and traveling opportunities honors offers, he decided to apply to be in the honors program and live in honors housing.
"Being surrounded by students who have a similar drive to learn has really helped me acclimate [to college]," Pack said.
During the reception, Pack met professors and students who are a part of the honors program. The honors program offers students networking opportunities that give students a close- knit community while they are in school.
For more information on the FMU honors program contact Dr. Jon Tuttle at jtutle@fmarion.edu or call 843-661-1521.