Foreign four experience German culture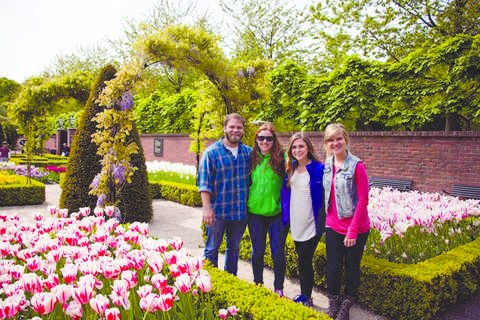 Four FMU art students recently returned from a semester of studying abroad in Landau, Germany.
From April 1 to Aug. 1 students studied at the University of Koblenz in Landau. The four students were: junior visual communication major Hannah Garand, senior photography major Kathleen Kennebeck, senior visual communication major Jonathan LaCross, and senior visual communication major Tori Payne
Calling themselves the "foreign four," Garand, Kennebeck, LaCross and Payne studied together, traveled together and experienced different cultures together.
They took the same classes while studying at the University of Koblenz: experimental print making, how to become an art addict, German language and German culture. All classes were taught in English except for the experimental printmaking class. The professor who taught the experimental printmaking class went back and forth between speaking English and German.
"Seeing how Germans do art was incredible," Kennebeck said. "The entire style of art is so different over there, and it was amazing to be a part of art classes with other students who have such a different outlook, style and appreciation for art."
Since all classes were held on Wednesdays and Thursdays, the "foreign four" had time to travel outside of Landau. Some of the places they visited were Berlin, Germany; Amsterdam, Netherlands; and Paris, France.
Garand said that traveling to Germany and other countries helped her to develop as an artist.
"I went to a lot of art exhibits and museums," Garand said. "I got to see what is similar in modern art between different cultures and what is different. Whatever I do in graphic design, I want it to be influenced by international ideas."
The students also had the opportunity to experience another culture by getting to know German people. When the students arrived at the University of Koblenz in Landau, they each received a mentor who helped them transition to life in Germany.
Payne's mentor, Lisa Henigin, bonded with all four students. She took them shopping, went to see movies with them and even hosted them at her house.
"My mentor was the best," Payne said. "She helped me and the rest of the exchange students from FMU the entire time we were there, and we still keep in touch now."
Garand said that she particularly enjoyed getting to know Professor Tina Stolt who taught the experimental printmaking class. Garand was excited to visit with Stolt when she came to Florence, S.C. in September to teach workshops at FMU.
Kennebeck said that experiencing a different culture was beneficial to her because it helped her to grow as an individual.
"I feel like I have a much wider and deeper appreciation for other cultures and people," Kennebeck said. "It's so easy to get caught up in our own little world, our agendas, our schedules, but it was so amazing to go to other parts of the world and have my eyes opened to all the many different lives and cultures there are."
After her experience in Germany, Payne said that she recommends studying abroad.
"There is no time like the present," Payne said. "College students are busy, but you can drop everything and go, because I did, and it has been one of the best decisions I've made."
Garand, Kennebeck, LaCross and Payne said they have all transitioned back to life in Florence, but they are already saving money and making plans to go back to visit Germany.