University life students learn about FMU services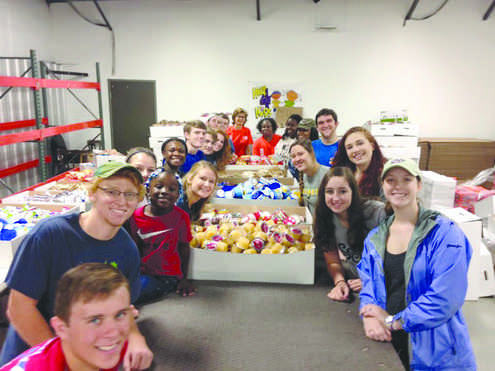 At the beginning of this semester, Student Health Services, Campus Police, The Office of Student Affairs and the Rogers Library spoke to the students taking University Life 100 (UL) classes and informed students about services provided on campus.
The presentations each had specific information to offer to freshmen, and most UL students were required to attend these sessions. Some professors required their students to just sign in, while others asked them to write a reflection on what they learned from the presentations.
The Office of Student Affairs focused on students' rights and responsibilities. Students were introduced to Family Education Rights and Privacy Act (FERPA), which guarantees that the university will not disclose any information about a student even to the student's parents without prior permission from the student. Student affairs also told students about how they could participate in student government and explained other ways they can become active on campus.
"If students only take one thing from the student affairs presentation, I would like it to be that we care about their success," Teresa Ramey, dean of student affairs, said. "We are available to all students, and student affairs is a great resource for college students."
Student Health Services talked to students about how to be healthier in college, the common health concerns of students and the services that are provided through student health.
"The student health presentation was the most helpful because it gave me information on where I can go if I need help," Aaliyah Watson, a freshman psychology major said.
Campus Police used their presentation to talk to students about campus rules and regulations. They also explained the safety boxes on campus and the non- emergency services that Campus Police provides to students at FMU.
"I hope the student[s] will take away a few ideas regarding how the can stay safe on campus," Donald Tarbell, campus police chief, said. "A few simple ideas like being aware of your surroundings, knowing where you are going and carrying your cellphone with you are all good ways a student can keep themselves safe."
The library presentation discussed getting student ID cards made, checking out materials and accessing the library online databases. The presentation also addressed the computer and printing issues and assured students that a specialist came and fixed the problem that was making logging on and using the computer a slow process.
The presentations were designed students enrolled in UL. UL is recommended for freshmen to help them become more informed about campus. The class is worth one credit hour and only runs half of the semester.
"[University Life] gets you involved," Kandace Solomon, a freshman pre- nursing major, said. "I probably wouldn't have come to these presentations if they were not required."
Overall, the students expressed that more structure to the class would improve the experience, slowing down the presentations having less information in each presentation would improve the UL presentations themselves.