International student earns US citizenship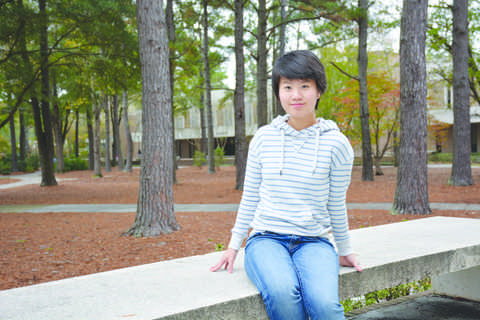 Yaping Yang, an FMU student, cannot hide the smile on her face as she shares her story of gaining dual citizenship.
Yang was 15 years old when she came to the U.S. from China on Oct. 1, 2009, when she was just beginning high school. Her parents came before her and received court approval for legal residency, and they applied for Yang so they could be together as a family. Legal residents can live and work in the U.S., but they do not have all of the same rights that citizens do, such as the right to vote.
"My dad came here when I was a little baby, when I could barely walk," Yang said. "My mom came here when I was in my rst year of elementary school, so I stayed in China with my aunt's family."
Yang's family was not the only family who came to the U.S. during that time. Because of immigration policies, many families were able to come to the U.S. When Yang rst came, she stayed in New York with many other people from many different countries but who were all immigrants.
"I stayed in New York for my freshman and sophomore year in high school," Yang said. "I moved to Illinois to stay with my aunt's family for half a year, and I went back to New York and moved to South Carolina my junior year."
Her parents have lived in Mullins since February 2012, running a restaurant. Yang's brother was born in the U.S. He is a U.S. citizen because he was born in the country.
Yang lled out the application for her citizenship herself over the summer. Her parents were never able to apply for their citizenship because of dif culties that they faced.
"My parents weren't citizens yet because of the language barrier," Yang said. "They can't study the materials, so I had to get applications by myself and ll out every part of it and send it to Immigrants Services. I had to wait for two months to get a response."
Right after taking the test on Sept. 22 in Charleston, S.C., Yang was told that she passed, and she said she felt a wave of emotions.
"I was pretty excited," Yang said. "I just thought I was really scared that it was going to be really hard for me, but it was actually not that bad."
She was invited to come back three days later to join the ceremony with the others who passed.
"[The ceremony] was pretty exciting," Yang said. "A lot of people cried, and then they laughed, danced and just went crazy."
Yang said that she hasn't felt different having her citizenship, but she expects that one day she will suddenly realize her accomplishment.
"I do feel like I can nally call myself American," Yang said. "Before that I would say, 'I'm Chinese. I came from China,' but right now, that's changed."
Yang said that she is especially looking forward to voting in the 2016 presidential election.
Yang is a junior accounting student who hopes to use her skills in international business.
"Iplantogogeta master's in accounting and then pass the CPA exam," Yang said. "I can speak Chinese uently, and I'm able to communicate English also, and I'm learning Spanish as well."
Yang is taking classes in English to learn Spanish at FMU.
"I'm learning Spanish and English at the same time," Yang said. "There're a lot of words I have to translate to English, and it's the same thing in Spanish."