Students get answers about life at FMU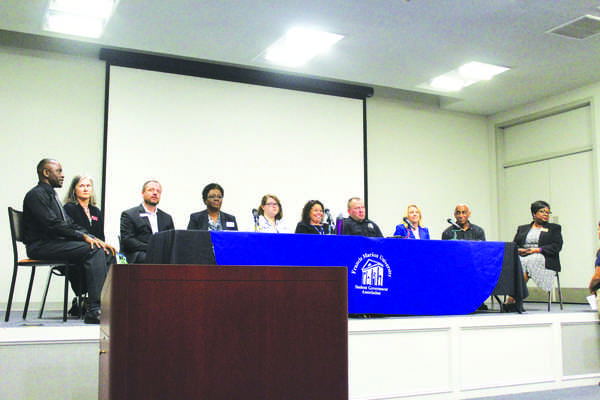 The Student Government Association (SGA) held a town hall meeting in Lowrimore Auditorium so students, faculty and staff members could ask questions about life at FMU.
The town hall meeting, held on Oct. 22, has not happened in a few years, but SGA has decided to bring it back for each semester.
A panel of 10 people sat on the stage to answer audience questions. The panel consisted of the directors of many important resources, including housing, dining and maintenance. Attendees were asked to write a question on a note card and submit it during the meeting to an SGA member.
Several students, as well as new SGA senators, attended the meeting and asked questions.
Brandon Brown, senior mass communication major, attended the event to hear the answers to questions from his fellow students.
"The forum was great, and I learned some things I didn't know," Brown said. "It was great to get straight- forward answers from the faculty."
One question that sparked many students' interest was, "Will the bookstore be matching the prices of textbooks to online prices?"
The answer brought cheers from students. AnnaKate Hutchinson, the bookstore manager con rmed that the bookstore will be price-matching textbooks, within a reasonable range of prices, starting in the spring.
Students also submitted questions to Chief Donald Tarbell, Technology Director Howard Brown and Aramark Dining Services Director John Williams.
Tarbell addressed safety concerns about cameras and late-night visitors, and Brown explained the printing process and commented on Wi-Fi concerns. Williams revealed the plans for a new dining location on campus, which will offer more food options through the Patriot Bucks meal plan.
After the event, senior accounting major Chad McCorkle said he had an optimistic outlook for the future of FMU.
"This is the way to get students' questions answered directly, instead of randomly throughout the semester," Freddricka Pressley, SGA vice president, said. "It's our way of being transparent about answering questions students have."