FMU recognizes students in 'Leadership FMU'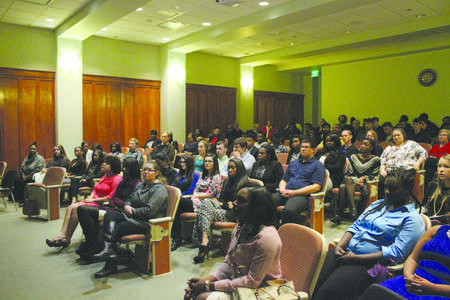 Students participated in the fall "Leadership FMU" program and were honored at the Leadership Fall Recognition ceremony. Students' families attended the ceremony as well.
Student Affairs held the event in Thomason Auditorium in the Lee Nursing Building on Nov. 23. There were four leadership sessions held this year, and the program has been held every year since 2008.
Dean Teresa Ramey, the advisor of the leadership program, along with FMU President Dr. Fred Carter and other administrators, developed ideas that would involve students and enhance their leadership abilities.
The leadership sessions are designed to help students form leadership perspectives, improve their values and ethics in leadership and improve their written and spoken professionalism. With the experience taken from the leadership sessions, students can become Resident Assistants, Diplomats or take on other leadership positions in the community.
Biology major Jennifer Evans received the Leadership Legacy Alumni Award. Evans is a 2010 FMU graduate and was a part of the Leadership 2009-2010 alumni. She is also a member of Delta Sigma Theta and is involved in several
community organizations. "The most important thing about the leadership sessions is realizing that it is not all about you," Evans stated. "It is about bettering yourself and the people around you and throughout the community. It is also very important to realize all of your aws and weaknesses so that they can strengthen you all together."
After Evans spoke about her time in leadership sessions, students who completed each of the current leadership sessions was given certi cates of completion and pins that were inscribed with the phrase, "Leading the Way."
Freshman business and nance major Teshaylia Kitt received a leadership award that night.
"It's an amazing and honorable experience," Kitt stated. "I recommend the leadership sessions to anyone and everyone."
Assistant Dean of Students LaTasha Brand gave the closing remarks as the recognition night came to an end.
"When you are a part of the leadership sessions, you realize that it is not just about the qualities that you possess," Brand said. "It is about how you use these qualities to better yourself so you can be a vessel in the community."
Thirty-two students participated in "Leadership FMU" and received a certi cate that night. Those were: Sarah Barr, Aisha Clay, Destiny Cleveland, Olympia Coats, Jodi Cogburn, Caitlin Cohoon, Ashley Corley, Chase Covington, Christopher Enzor, Miranda Fisher, Parrisha Ford, Jasmine Gadsden, Jamara Jeffrey, Teshaylia Kitt, Graham Martin, Kendria Mason, Jamesha Massey, Olivia McCants, Rebecca Perkins, Precious McLaughlin, Ma'Lykia Purdy, Anna Rawl, Kimberly Vinson, Madison Vogt, Madison Vogt, Michael Wachowski, Daniel Wadford, Timika Watkins, Lakesha Watson, Dajshia Williams, Corbin Witt and Glenn Yoma.