MI ensemble takes stage at PAC, Students perform '80s music, learn about industry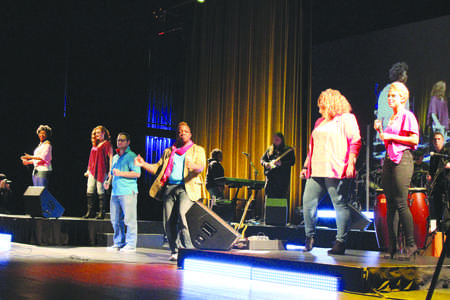 FMU students in the Music Industry (MI) ensemble performed an '80s themed concert at the Performing Arts Center (PAC).
Each semester the MI ensemble performs a concert showcasing music they have worked on during class time.
Dr. Brandon Goff, associate professor of music, teaches MI ensemble to allow students to see what goes into putting a live performance together.
"One of the big goals is for the students to understand what goes into the rehearsal, arrangement and performance process," Goff said. "The show we do at the PAC is massive. We have integrated lighting, sound and all of that stuff. That is something we see but don't realize goes on behind the scenes."
This semester students learned music from different genres of music from the '80s. The songs performed ranged from Cyndi Lauper to Whitney Houston.
Geoffrey Starling transferred from the University of South Carolina to study music industry at FMU.
"I wanted to get a music degree that was more involved with the creative aspects of music," Starling said.
Starling took part in the MI ensemble during his rst semester at FMU, and he lead the song "Rosanna" by Toto.
Starling said the members of MI ensemble were welcoming.
"There is something about students who are involved with the arts," Starling said. "They are always so welcoming because of the common love for music."
Starling said that FMU is unique in offering so many
opportunities to students. "There are so many opportunities here at FMU, which is something large universities lack," Starling said. "My professors here have taught me that the quickest way to knowledge is knowing that you don't know that much."
Freshman music industry major Zeb Sowell also took part in MI ensemble for the first time this semester. Sowell began helping with technical elements of MI ensemble, such as videography. Goff offered Sowell the opportunity to play in the show.
"I found out they needed a mandolin player for one of the songs, and I was the only one who could play it," Sowell said.
Sowell played a bluegrass version of the song "Girls Just Wanna Have Fun" by Cyndi Lauper with the MI ensemble.
For German exchange student Jo Spunkt taking part in MI ensemble was a chance to pursue music during her time at FMU.
While in Germany, Spunkt performed wither band at informal events, such as local wine festivals.
"The performance here was different because it was planned and more formal," Spunkt said. "Even though people were sitting instead of standing and dancing, we had a lot of fun on stage."
Spunkt led the song "Funkytown" during the performance.
"I had so much fun on stage with the MI ensemble, andIamsohappyIhad the opportunity to be part of the show," Spunkt said. "I am a really huge fan of the '80s and I was thrilled when Dr. Goff told me the theme for this semester's performance."
According to Goff, the MI ensemble is a change for students to practice real-world application of the music industry while still in school.
Goff said that for some students the MI Ensemble is the only opportunity they have to perform this type of concert in their life. This is a way for them to expand their musical horizons while learning how the music industry works.
A week before the final concert, the MI ensemble students preformed a teaser concert in the Hyman Fine Arts Center breezeway to help ease their nerves and to let more students know about the upcoming concert.
Goff said he hopes to use the MI ensemble concerts to encourage FMU students to come out and appreciate music and what goes into making music.
Next semester MI ensemble will write and produce a full-length album and perform the music during the concert at the end of the semester.