Visual arts seniors host 'Color Talks' showcase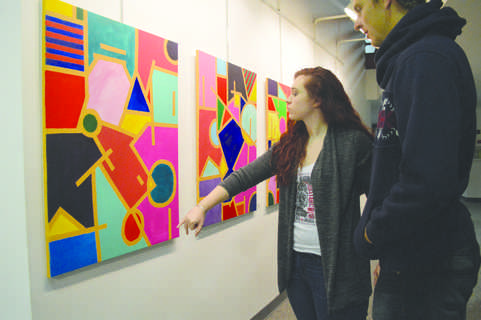 The FMU visual arts department displayed student artwork accompanied by a reception in the Hyman Fine Arts Center for this year's Senior Showcase entitled "Color Talks."
Senior visual arts majors Laken Long and Halli Williams were the two artists featured in the Senior Showcase that took place on Nov. 12. Both artists said they were grateful for the opportunity that FMU visual arts provided them.
"I think it is a wonderful thing that gives us an experience of a gallery show," Long said.
Long's exhibit featured paintings entitled "The Kaleidoscope Series." The paintings were colorful, geometric abstracts. Each painting was named a color that was used in the painting. One viewer's favorite was Long's painting "Brown," which many viewers interpreted as having a number three painted in it. However, Long said that the three was not intentional.
"I let my mind wander freely and do whatever is in my mind," Long said. "I leave the art to the interpretation of the viewer."
Long created her series by using tape on a canvas to construct the shapes in her paintings. She used acrylic paint to get her desired color effect. Long said she uses acrylic paint because she is able to mix the colors, and the effect is more vivid.
Long said she is inspired by artists Auguste Herbin and Laura Mosquera. Long said she aspires to be a fashion designer after graduation. She is looking to transform her paintings into fashion designs to be printed on clothing.
Williams' display consisted of six landscape paintings as a series titled "Through the Eyes of the Creator."
"'Through the Eyes of the Creator' is intended to show that God is the rst artist, and as a part of His creations, we are designed with the ability to create and envision," Williams said.
All of the paintings were of the same forest-looking landscape, but each had a different color scheme. Williams's display of the six paintings with contrasting color schemes was meant to convey tension. The names of her paintings re ected Williams' use of color with  titles such as "Color Blind" and "Lavender Dreams."
"I paint landscapes in a realistic light but with a twist on the color scheme to invoke more imagination because everyone sees colors differently," Williams said. "So, why can't a tree be pink and the grass be orange?"
Williams said she nds inspiration in Wolf Khan, an artist who paints landscapes with a variety of colors. She hopes to get a job working in a gallery or museum after graduation and will continue her painting.
Many students who attended the "Color Talks" Senior Showcase said they were impressed with the work presented by both Long and Williams. Sophomore visual arts major Shawnette Winn said that she enjoyed Williams' series.
"Everything I looked at tonight, I found something I like, but I think my favorite piece is 'Purple Gaze,'" Winn said.
Senior theatre arts major Xavier Nettles said the senior showcasewas an opportunity for the work of the artists to be respected.
"I enjoy walking through any type of exhibit that is in the Fine Arts building," Nettles said. "I cannot do it, but I like to come out and appreciate it."
The paintings from both artists that were shown in the showcase were for sale. Long's paintings were priced at $250 each. Williams' paintings were priced at $300 each. Both artists expressed their hopes that their paintings would be purchased.