FMU unites, remembers Dr. King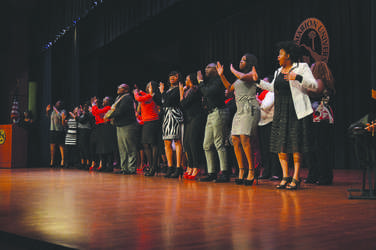 "The purpose of this event is to inform the guests about history and culture of the Jewish community and bring awareness to the Holocaust's effects," Glover said. "We love culture, we love to involve people, and we promote diversity."
The event was held by the Student Government Association (SGA) at the Chapman Auditorium in the McNair Science Building (MSB) at 6:30 p.m. The event was held in remembrance of his influence during the Civil Rights Movement.
The introduction and welcome was given by Alayah Hamlin, president of the NAACP Chapter at FMU. Senior early childhood education major Brianna Easterling led the anthem, "Lift Every Voice and Sing," when everyone in the audience stood and sang together. Student body president Samuel Smoot said the opening prayer, and following that was a presentation by the SGA treasurer, J. Hayes McLendon.
Praise in Motion Dance Ministry performed and was followed by the Young Gifted and Blessed Gospel Choir. Vice President of the student body Freddricka Pressley presented the audience with a video tribute where several individuals spoke about the influence Dr. King has had on them and on society.
Following the video tribute was a musical selection by senior, political science major Desmond Broadnax where he played "Golden" by Jill Scott on the piano. Scott sings about freedom in the song.
Senior theatre major Brooke Mogy also made a presentation. She read a spoken word poem she wrote called "To March."
Mogy, along with many other students, said she was inspired by King.
"As I was writing, I honestly wanted to quit," Mogy said. "I was going to call Dr. Carter-McCants and tell her I couldn't do it because I felt I had no right to stand and talk about the pain and suffering I had not experienced myself. It was an honor and privilege to be asked to do the piece in the first place, but I sat down and soon the words just flowed out. My writing often comes from a place of searching, and so as I wrote this piece, I was searching for the most unifying qualities I could possibly find. The cool part is, that finding those qualities was easy to do in the end."
Mogy said that her inspiration came from thinking about King's legacy.
"What inspired me the most was looking back on the legacy of our ancestors and seeing a generation of people who were willing to fight and to follow through," Mogy said. "I believe that level of commitment gets lost a lot these days because we can be a rather privileged group of people sometimes."
Smoot is another inspired student who shared the lessons he learned from King.
"Dr. King taught me that sometimes you have to step out your comfort zone and always stand for what's right," Smoot said. "Be the voice for the people that believe that they do not have a voice. Always serve God and work hard. You never know how you can impact a life or the world."
King has been an influence in Brianna Easterling's life as well.
"Dr. King has inspired me to not just sit back and complain about a problem, but to actually take action," Easterling said. "It's very known that in today's society as African Americans, we are not always treated with the same respect as other races or we are often limited with possibilities because of our skin color. I participate as much as I can in events or protests that support the rights of not only blacks but everyone. You have to be willing to be that change so the world can one day make a change."
King's legacy is remembered every at FMU through this event.