Pep rally pumps up students, alumni for games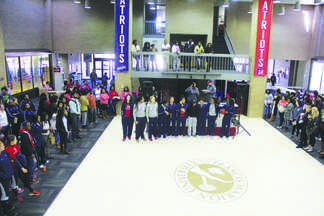 FMU students came to the Homecoming pep rally on the Thursday before Homecoming to support the Patriot basketball teams and socialize.
The coaches of the men's and women's basketball teams gave each of their players a personal introduction before the game and teams were wished success in bringing home the win at the game.
Those in attendance received raffle tickets for a drawing. There were FMU T-shirts as prizes and one student won a year's worth of free Big Macs from McDonalds.
The FMU dance team,Dimensions of Diversity, also performed.
The pep rally was moved from the Griffin Athletic Complex to the Smith University Center due to heavy winds on the day of the pep rally. However, students still showed their excitement for homecoming during the pep rally.
"I felt that the pep rally was a good start to the weekend of homecoming," Justin Perry, senior industrial engineering major, said. "I like to see people participating in the events. I'm looking forward to the energy and vibe around the school while more events come leading up to homecoming weekend. It's usually different every homecoming, and I don't know what to expect. I'm sure it will be great."
Devin Brannon, junior mass communication major, said he was excited for the pep rally but thought it could be even better.
"I feel it is good to get the school hyped before the game because a lot of the students don't have school spirit," Brannon said. "I'm looking forward to lots of school spirit and parades and fun. Homecoming should always be eventful."
Brannon said that the basketball game is his favorite part about homecoming but that he thinks a football game would provide an even more eventful way to spend homecoming.
"I feel like if we had a football team our homecoming would be a thousand times better," Brannon said. "I feel like there isn't much that goes on at FMU. It really is up to the student to make this university fun and appealing just like you would see on TV."
Sophomore pre-nursing major Medjina McStravick agreed that her favorite part about homecoming was attending the athletic games.
"I feel like FMU pep rallies should be a time where everyone comes and shows the most school spirit supporting the athletic department," McStravick said. "I'm looking forward to seeing all the returning alumni. I would love to see a big carnival fest program take place in front of the UC where current and previous students can join together to have fun before the game starts."
The pep rally ended with music and students socializing. Following the pep rally, students ate free food at the Griffin Athletic Complex.