Dance celebrates FMU students, community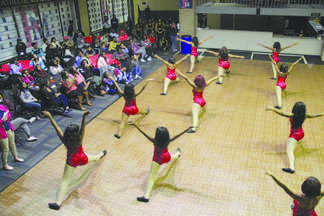 Students showcased their dance moves at the Homecoming dance on the Thursday of Homecoming week.
The dance was a free event held by the University Programming Board at 7 p.m. in the Smith University Center. There were refreshments set out for students, such as meatballs, chips with salsa and dip and a variety of desserts.
During the dance, the candidates for Homecoming King and Queen were announced. Both of the FMU dance teams, the Dimensions of Diversity and Project Dance, performed. Many students, including sophomore, elementary education major Glennie Tanner, said they enjoyed the dance.
"I really enjoyed the dance," Tanner said. "My favorite part was watching the two dance teams. My best friend is a part of the team, and I love supporting her. Also, the Project Dance performance blew me away. The captain of the team is also a good friend of mine, and it means a lot to me that she started her own dance team because she loves dancing that much."
Tanner also expressed how she was looking forward to the rest of the Homecoming events.
"Being a part of the Student Government Association makes homecoming spectacular," Tanner said. "I really don't know what to expect. The Homecoming parade is my favorite part honestly. Waking up, decorating and drinking hot chocolate with my friends will forever be my favorite."
Sophomore elementary education major Brittany Greene, who is also a member on the Dimensions of Diversity dance team said she did not think the Homecoming dance was as good as in past years.
"Compared to last year's dance, it wasn't as fun, but I feel like dances are what you make them," Greene said. "By that, I mean that if groups of people got up and danced, I'm sure others would follow. Overall, I did have fun with my group of friends. My favorite part of the dance was when the Dimensions of Diversity took the stage. I think that was my favorite part, not only because I was dancing but because I feel like it brought the crowd alive, even if it was just for a little bit."