Grad furthers education in Russia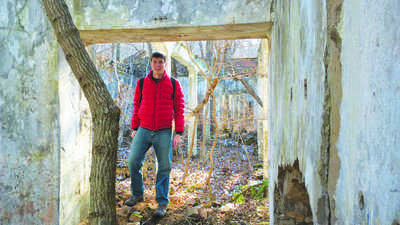 While studying history and professional writing during his time as an undergraduate student at FMU, alumnus Jonathan Rainey developed an interest in Russia, prompting him to travel abroad to study the Russian language.
Rainey's interest in Russia developed while taking a Russian history course with Dr. Alena Eskridge-Kosmach's.
"I took one of her history courses on Imperial Russia, and I thought it was really interesting," Rainey said. "So I took what courses I could related to Russia and Eastern Europe. After graduating, I continued to read about and follow Russian history and politics."
Rainey said that throughout his childhood, he never had an interest in traveling outside of the country.
"Living outside of the U.S. wasn't really a dream of mine from an early age," Rainey said.
After graduating from college, Rainey's interest in Russian culture and history grew.
Rainey said that he wanted to pursue a graduate degree in Russian history or Slavic studies. To get into one of these programs, he had to have a general understanding of Russian language.
However, FMU did not offer Russian courses.
"I started considering different ways to learn Russian," Rainey said. "I remembered that Dr. Eskridge-Kosmach had suggested the School of Russian and Asian Studies, which provides study and research opportunities to Americans interested in Russia and former Soviet countries when I graduated."
Rainey applied for scholarships to attend school in Vladivostok, Russia.
"I didn't expect anything to come from it, but then I got the email saying that I had been accepted into the program," Rainey said. "It was a shock to be honest. I had a good job in Virginia that I'd been at for almost two years, but this was something that if I let it pass by, I knew I would regret it. Three months later, my plane landed in Vladivostok, Russia."
Before traveling to Russia, Rainey worked at Mercy Medical Angels, a nonprofit organization that provides long-distance medical transportation for people.
Rainey quit his job to live in Russia for the next academic school year, learning Russian from being immersed in the country.
"The primary focus of my program is language learning," Rainey said. "I spend between three to five hours each day in language classes. Obviously, Russian university students don't need Russian language classes, so my classes are with other international students."
Even though Rainey takes classes with non- Russian students, he still has interaction with Russian natives.
Rainey said that he lives with a student from Russia, and most of his friends are Russian.
Apart from taking Russian language classes, Rainey writes a blog and does other public relations jobs for his school.
"I'm also working on an internship with the School of Russian and Asian Studies in return for my scholarship," Rainey said. "That organization also runs a few websites with a lot of information about Russia.
So far, I've written some pieces about Russia's foreign policy, two country profiles on Armenia and Azerbaijan and some historical articles."
While Rainey's scholarship expires in Russia in May, he said he is trying to find a way to stay in the country rather than return to the U.S.
"In December, I went hiking to an abandoned fort from the early 20th century," Rainey said. "It's pretty common for local people to hike there, but it's not a tourist spot at all. I have a few Russian friends who enjoy the outdoors so they knew about it."
Rainey uses his experiences with his local friends to write his weekly, personal blog.
"The blog is probably my favorite part," Rainey said. "Because I update it weekly I always need something interesting to write about. Knowing I have a blog post to write at the end of the week keeps me motivated to search out new things to write about."
After finishing his year abroad, Rainey said he hopes to continue learning Russian, attend graduate school and potentially return to Russia to work long-term.