Organizations march in traditional parade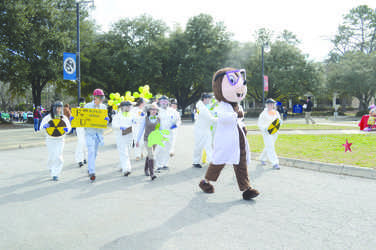 FMU clubs and organizations participated in the fifth annual Homecoming parade around FMU's campus.
The parade had a Disney theme this year titled, "The Wonderful World of FMU." The parade began by the Housing Office and traveled down Patriot Drive to the University Center (UC) lawn. Twenty-four various clubs and organizations participated in the parade.
The American Chemical Society (ACS) won awards for most creative, best representation of theme and best overall float, and Alpha Delta Pi (ADPi) won most spirited float in the parade.
Floats were judged using a numerical scale based on quality of the floats in categories such as creativity.
Three FMU professors, Dr. Rebecca Flannagan, Dr. Linda Jacobs and Dr. Leroy Peterson, along with Dr. Jennifer Evans, FMU alumna and local chiropractor, were judges for the parade.
The Student Government Association (SGA) treasurer Hayes McLendon helped come up with the Disney theme for the parade.
"The theme was chosen because SGA and the parade committee felt that it would be a fun theme for the various organizations and department to interpret and use to decorate and prepare for their entries," McLendon said. "Disney is a universal theme that almost anyone can relate to and many of the entries embraced this theme."
The Multicultural Advisory Board (MAB) Chairperson Shenika Glover said that the theme of the parade aligned with the MAB's motto of diversity. MAB's float was themed after "The Lion King."
"The motto for MAB is cultural diversity," Glover said. "This relates to 'The Lion Kings' theme of many individuals coming together with different cultures to embrace the term family."
MAB took part in the Homecoming parade for the first time this year. Glover said she plans to continue taking part in the homecoming parade.
"It helped inspire us to put forth more effort in preparing for future Homecoming parades so we can embrace what it means to have Patriot pride," Glover said.
ADPi's float was also inspired by the Disney movie 'The Lion King."
Marley Young, sophomore ADPi member, said their float was inspired by their sorority mascot, Alphie the Lion. The float had an African theme with Alphie the Lion on the golfcart.
McClendon said this year's parade was bigger than last year.
"I was very excited for us to see an increase in the number of entries from last year's parade," McLendon said. "I was amazed at how many organizations and departments really took the theme to new heights with their interpretations of different Disney movies and characters from 'Flubber' to 'A Bug's Life'."
McLendon said he hopes that the pared participation continues to increase.
"I hope that as it bas continually done, to build and expand upon the parades of years past," McLendon said. "My other hope is that we will see more student body involvement in the parade planning, participation, and audience."