Professor Spotlight: Allison Munn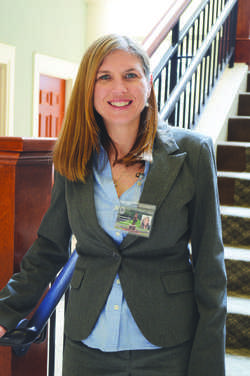 FMU nursing professor Allison Munn strives to provide her students with a quality education inside of and out of the classroom.
Munn discovered her passion for the nursing field during her childhood in Pamplico, S.C. During her teenage years, Munn helped care for her grandmother who suffered from emphysema and terminal lung cancer. Through this experience, Munn was inspired to pursue a career in nursing.
"I had always loved children but I loved hearing the nurses say that they needed to do something for their baby, instead of their patient," Munn said.
After graduating from Clemson, she moved back to Florence with her husband Jonathan Munn, where she began work in the Neonatal Intensive Care Unit (NICU) at McLeod Hospital in Florence. While working there Munn witnessed the pain that some mothers encountered after losing their babies. After observing what she said were multiple heart-wrenching moments, Munn decided to become certified in bereavement counseling because she wanted to help the parents cope with their grief.
The Grief Box Project created bereavement boxes for parents who have lost newborns. These boxes contain gowns, rings, feet/ hand-print molds and blankets to help the babies appear more lifelike in photographs.
"The goal is to make that experience as good as it possibly can be in the face of such overwhelming loss," Munn said.
Each year the NICU unit holds a memorial for all of the infants that didn't make it in the past year.
Munn also researched the benefits of breast-feeding newborns.
As Munn continued to work in the NICU, she became aware of issues that the newborns face. One such problem that peeked her curiosity was the topic of breast-milk. She began to notice how many of the infants who were given formula early on developed gut infections. However, the infants that were fed breast milk never developed the infections.
Through her work with McLeod Hospital, infants can now receive breast milk, even if their mothers cannot produce any, through donations. Around the same time, Munn mentored several FMU graduates and enjoyed helping them. That experience coupled with her interest in research, eventually led Munn to pursue her doctorate while teaching nursing at FMU.
In addition to classroom experience, Munn gives her students hands on experience by taking them to the Richardson Center for the Child at FMU.
Munn said she enjoys taking them to the center so they can get an idea of how a healthy child acts compared to the sick children that the students encounter in the pediatric unit. Sometimes the students will come in in their scrubs which scares the students. Munn uses this as a tool to help teach her students how to interact with children and help them to feel calm and comfortable.
However, Munn said she felt happy about her decision to move from a clinical setting to teaching.
"It's fun to see students come in scared of children and leave wanting to work in pediatrics," Munn said.
However, she isn't the only one who enjoys the classroom environment. Her students say they enjoy having her class. Octavia Days, a senior nursing student from Conway, S.C., said she has thoroughly enjoyed Munn's class.
"Professor Munn genuinely cares and goes the extra mile to take the time to make sure you really understand the information," Days said. "She makes sure that we not only memorize the facts, but that we can apply it in real life so we can be the best nurses we can be."
Throughout her time as a NICU nurse and as a professor, one thing has rung clear about Munn. Her desire to help others comes before everything else. Munn teaches her students to always put their patients first as she did during her time working as a nurse.