Student shares his transition story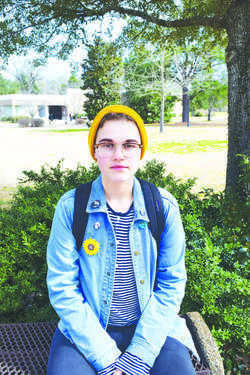 Being born a girl and developing emotionally and physically into the main he is today changed Aiden Humphrey's life in a unique way.
Humphrey, a McNair Scholar and freshman English education major, said that he never liked the dresses his parents bought him and that he would always sneak across the hall to his brother's room to wear his clothes. Humphrey said he just did not feel feminine.
"To me, gender is a perception," Humphrey said. "I feel like gender is simply how someone perceives themselves regardless of societal norms, anatomy etc."
Humphrey said when he was 15 years old was when he finally accepted that he was not meant to be classified a girl. While Humphrey said he does not necessarily consider himself either gender, he does identify more as a male.
"I had to accept it myself, not being ashamed or anything but that it was going to make things more difficult," said Humphrey. From that point, Humphrey began his transition from Rebecca to Aidan.
"I hated my name," Humphrey said. "Names are important to me."
When he started brainstorming what his new name would be, he took to making lists of name possibilities. Aidan, ironically, was a name that was strictly on the do not use list. Humphrey deluged that one of his characters in a story he was writing was named Aidan. He did not want to use the same name as one of his characters. Eventually, he gave in.
"I decided to use Aidan and ruin the story," Humphrey said.
Isaac, Humphrey's middle name, was on the list of names that he did like and was considering for his new name. Ultimately, Aidan Isaac became his legal name, and Humphrey chose Isaac as his middle, not first, name for a seemingly silly reason that's important to him.
"I don't like the way I wrote a capital 'I' in my signature," said Humphrey.
Changing his name was very important to both Humphrey and his parents. Humphrey expressed how his father worked very hard to make sure that his name was legally changed before his high school graduation, so that his name would appear as Aidan Isaac Humphrey on his high school diploma.
Humphrey said that his parents have been very supportive of his transition. They both call him Aidan, even though this process took about a year. Humphrey said that it took some time for them to get used to calling him something different than Rebecca. Even Aidan is still getting used to not being called Rebecca.
"There is this girl in one of my classes and every time someone's calls her name, Rebecca, I look," Humphrey said. "I think I will always look."
Humphrey used his capability and love of writing to reach his parents about his feelings and his struggle with gender during the early stages of his gender change. Humphrey filled a composition book with information regarding the LGBTQ spectrum and also his own feelings about what he was internally going through. He sat the composition book on the kitchen counter, where his parents would find it, and he went to school. Writing everything down was Humphrey's way to expressing and letting others know about his detachment from his female gender identity.
Humphrey said he was fortunately never bullied in school. He described his peers as very accepting, and they quickly took to calling him Aidan.
Since he became open about his identity, Aidan expresses that he is more confident in himself, even though he is still a very private and a to himself type of person. He also describes himself as having a thickskin, which he thinks is a result of him being a selfisolated person.
Humphrey is a member of Gay Straight Alliance at FMU and is also a staff member of "Snow Island Review." He is currently looking at two career possibilities. He either wants to be an English professor or an indie film director. As an English professor, Humphrey said he would like to expose students to gay, transgender etc. writers who are usually not found in the curriculum of college English classes. Humphrey said he hopes to make a move to a bigger city, like San Francisco or New York, after college.
Humphrey said he is very comfortable with himself and his identity, and he hopes to spread awareness through his story of transition.