Lady Pats' defense suffocates Coker 68-54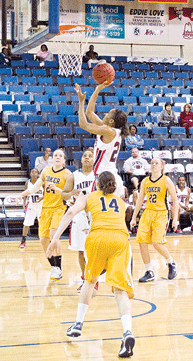 Thanks in large part to an impressive performance by its smothering defense, the FMU Lady Patriots shut down the Coker College Lady Cobras on Monday, Dec. 3, defeating them 68-54 in an early season, non-conference battle between the two local rivals.
FMU held the Cobras to shooting just 29.7 percent from the field, including 9-of-28 from the three-point arc.
Head Coach Kate Glusko said that defensive excellence was paramount in the game.
"We knew that Coker was good at executing in their half-court offense," Glusko said. "We wanted to stay true to our defensive principles and we did that."
Glusko also said that it was important for the Patriots to contain Coker senior guard Amber Lau, who came into the match averaging almost 22 points per game.
"She is a fantastic player," Glusko said of Lau. "Jasmine Williams-Hayes, Hattie Harris and Dee Gray did a good job on her. We wanted to keep fresh bodies on her to wear her out and limit her touches."
Lau finished the game shooting a woeful 4-of-21 from the field with just 11 points.
Gray played well in her first outing back for the Patriots after suffering an injury about two weeks before.
The first half was full of back-and-forth action, with neither team being able to really establish a large lead. Both teams faced some difficulty putting points on the board. But the Patriots were helped largely by senior guard Tiara Gause's eight first half points.
Glusko said that Gause really came through for the club with her productivity.
"Tiara is having a great senior year," Glusko said. "She is a competitor and she did what we needed her to do, knocking down tough shots."
Gause scored a team-high 14 points on 6-of-12 shooting. Senior guard Kristen Dickerson also contributed with 12 points and five steals.
The third-year head coach said that Dickerson has been doing a "phenomenal job" and that the senior has bought into the game plan.
Coker played a 2-3 zone defense against FMU for much of the game. The Patriots had not seen much zone before the game. Glusko said that her team did a good job of focusing on offensive execution and of increasing the tempo of the game.
FMU took an 11-10 lead with 11:27 remaining in the first half and never looked back.
For the Cobras, sophomore guard Angie Lawrence scored ten points. Guards Jasmine Evans and Hailey Yohn scored nine points each. Sophomore forward Priscilla Fenty had 12 rebounds to go with her nine points, coming close to a double-double.
Yohn hit three important three-pointers in the first half for Coker, but did not score at all in the second half.
Sophomore biology major and Patriots supporter Da'Quann Thomas said that he felt FMU just outplayed Coker.
"Our women's basketball team played hard against a good Coker College team," he said. "They really fought but couldn't defeat our ladies."
As a team, the Patriots shot 13-of-19 from the free throw line, while Coker connected on seven of its 12 attempts.
The Patriots were able to force 23 Cobra turnovers, leading to 24 points off those turnovers. FMU doubled Coker in paint points (32-16). But perhaps the most startling difference between the two teams came in the bench scoring department. FMU's bench scored 38 of its 68 points, while Coker scored only six bench points.
The victory improved the Patriots' record to 5-1 and dropped Coker to a record of 4-2. While the Lady Patriots prepare for the new semester, they also prepare for Peach Belt Conference play.