FMU hot shots sink UNCP Lady Braves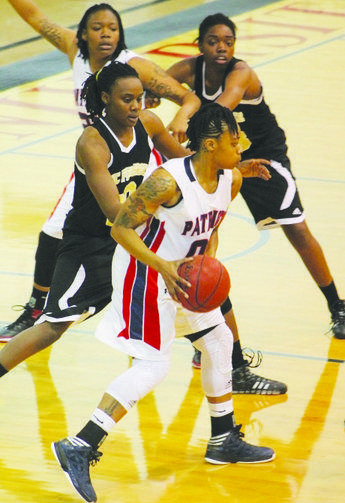 Francis Marion University (FMU) women's basketball team won with a 14-point margin against the University of North Carolina Pembroke (UNCP) Braves on Feb. 6; the final score read 68-54.
      The first half saw FMU with the first 9 points before the Braves were able to get any points on the board.
      Senior guard Erin Pinkett for FMU drained four three-pointers to start the first half of the game. It seemed that all the Patriots were riding on that hot streak.
      Francis Marion shot 43.9 percent for the game, including 54.4 percent in the opening half.  The Patriots were also shooting 100 percent from the free throw line at half time, and by the end of the game, made nine out of 10 free throws.
      The Patriots went 7-of-18 from the three-point range and a near perfect 11-of-12 at the foul line.  FMU committed only eight turnovers and held a commanding 21-4 advantage in points off turnovers.
      Junior guard Briana Robinson led Francis Marion with 18 points, seven assists, five rebounds and four steals. 
      All 12 of Pinkett's points came in the opening 20 minutes as the Patriots built a 25-point halftime lead.  Sophomore guard Camille Dash and senior center Kim Roach both chipped in eight points.
      Guard Jasmine Huntley and center Kierra Haney led UNCP with 12 points apiece, while Kamille Horne added 11 points.  Haney also pulled down a game-high 10 rebounds.
      Francis Marion scored the game's opening nine points and never trailed.  They maintained their lead throughout the whole game. The Braves never seemed to be able to close the gap that Pinkett created at the start of the first half.
      The Braves pulled to with 10 points, 21-11, with 9:35 left before intermission, but the Patriots closed the half with a score of 43-18.
      UNCP tried with renewed vigor during the second half to chip away the large lead, but would only get within 11 points at the closest, 57-46. Unfortunately for the Braves, there was no way to alter the Patriots' starting streak.
      Francis Marion snaped a four-game streak and improves to 11-8 overall and 6-7 in the Peach Belt Conference (PBC).
      The Patriots move into sole possession of third place in the conference's East Division standings. 
      FMU will begin a three-game road trip this weekend by visiting Lander University on Saturday for a 1:30 p.m. tip-off.