Patriots stone Saints in season, home opener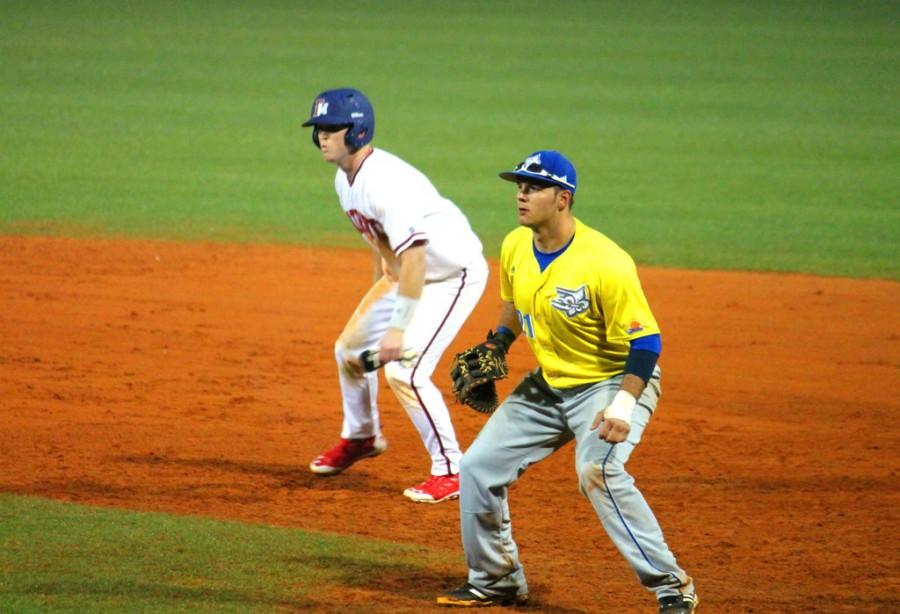 Lillian Miller, Sports Editor
February 24, 2014
The Francis Marion University (FMU) Patriots baseball team hammered the Limestone Saints in their season-opener on February 1, winning 15-3 in the first match up of the Carolinas Hospital System Tournament.
        The first home game for the FMU baseball team ended in a cloud of glory as the men left Limestone in a pile of rubble.
        The first inning started out slowly as the Saints tried to get a runner home. With only getting a runner to the second base, the Saints expunged their 3 out limit, and soon the Patriots were up to bat.
        It was in the bottom of the first inning, when the Patriots created the first gap. With runs scored by Michael Wilson, Issac Davenport, JD Crowe and Luke Tollison, the Patriots led 4-0 going into the second inning.
        Limestone was not to be shut out of this game. The second inning was the only inning where Limestone scored. The Saints racked up three runs before the Patriots returned to the plate.
        The batting order returned to the top with Wilson taking a walk to first base. Wilson would be the only player to make it to base at the bottom of the second. The next two batters will try to get on base, but it seemed a futile effort until Tollison slams a ball to right-center field. While he was thrown out at third base, it was enough to send Wilson home. The score now reading 5-3.
        The bottom of the fourth saw FMU with bases loaded and two outs with Tollison up to bat. Tollison struck out looking and the score remained 5-3.
        Top of the fifth was another three up and three down situation, and the Patriots return to the batter's box for their best gain of the game in the bottom of the inning.
        With runs scored by Marquis Curry, Dalton Gress, David DeWolfe, Cole Morris, and again by Crowe and Davenport, the Patriots have decided to show no mercy to the Saints. The score was a glaring 11-3 after five innings.
        There was no change going into the bottom of the seventh. The Patriots were again at bat. The first batter struck out. The second, Davenport, would go on to score another run, followed by Crowe. The score now reading 13-3.
        With just two innings left, the Saints had a chance to make a difference in the 10-point gap, but it was for not. The Patriots were the only ones to add to their score with another two runs in the bottom of the eighth by Gress and DeWolfe.
        The game ended with a final score of 15-3.  Limestone managed to get eight hits, and made only two errors. But they were no match for the Patriots getting 13 hits and one error.
                The Patriots next home series will begin Friday, Feb. 21 against conference opponent, USC-Aiken.  First pitch is set for 4 p.m.