Jags drowns in sea of red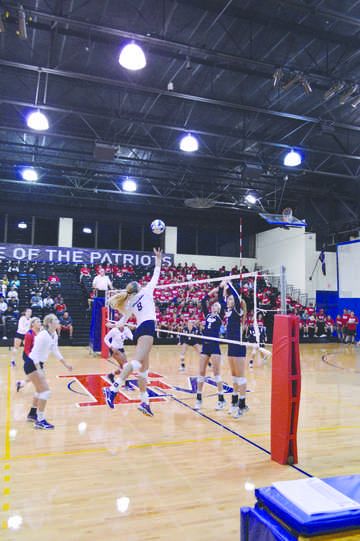 It was high tide in the Smith University Center on Wednesday, Sept. 23 as the Sea of Red was out in full force to support the FMU volleyball team. The Patriots swept Georgia Regents University (GRU) in three sets.
After surrendering the opening point to the Jaguars, the Patriots improved. The Patriots scored quickly and earned a 22-13 lead, which led to a GRU timeout. The Jaguars hit hard coming out of the timeout, but their late game rally was to no avail as the Patriots scored the last three points to earn the first set with a final score of 25-21.
The crowd cheered, and the Patriots high-fived each other before the next set. The second set was a tight might. FMU capitalized on two Jaguar mistakes to end the set 25-23. The Patriots entered the intermission with a 2-0 lead.
The Jaguars rallied in the next set. They scored and tallied up the 12 points during the set.
After an FMU timeout the tide began to change as the Patriots set out to extinguish the GRU attack. Digs and kills powered the 11-point comeback to make the score 22-21. After a Jaguar timeout, the game was back and forth as both teams traded scores.
The Sea of Red cheered the Patriots on as they changed the "I Believe" chant.
Few mistakes were made by either team during the final set.
With the Patriots one point away from winning, the volleyball bounced off players from both teams before falling out of bounds. GRU thought they had scored the point and prolonged the match, but after ruling that it deflected off a Jaguar player, the officials awarded the victory to the Patriots.
FMU's performance was powered by senior Alexzandra Reed who earned three aces, nine kills and finished with 10 digs. Junior Carolina Boone also had nine kills.
The Patriot victory put them at 8-3 for the season and 2-1 in Peach Belt Conference (PBC) play. They sit at third place in the PBC.
The Patriots will be looking for support as they host UNC Pembroke on Oct. 2 inside the Smith University Center.