Patriots soar past nationally-ranked Hawks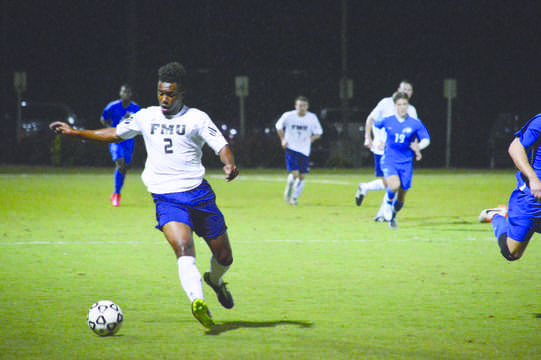 The rain did not stop the Patriots from prevailing in their soccer match on Thursday, Sept. 24 against Chowan University. In the end, the Patriots defended Hartzler field from the Chowan University Hawks who, prior to the match, had only surrendered two goals of this season.
Spectators watched the game despite the rain and supported the Patriots. The Patriots hosted Florence Soccer Association night during the game.
The game was stopped multiple times so the official could calm down players on both teams.
The physicality of the Hawks' defense backfired, however, when a hard foul in the ninth minute lead to a FMU free kick. Senior Sven Ricke set the ball on the right side about 30 yards out from the goal before kicking it into the box. Senior defender David Sheridan was the one on the receiving end and used his head to drive the ball right past the keeper and into the back of the net to  give the Patriots a 1-0 lead.
A few minutes later, the Patriots were on the attack again, working the ball around Chowan defenders. The drive warranted six FMU shots from six different players, none of whom made it to the goal. The Hawks continued to deflect the Patriots' shots.
In the 30th minute Ricke got through a ball from freshman Anton Jonsson.
Ricke took one too many touches allowing Hawks goalkeeper Marco Lujan the opportunity to fly off his line and use the wet grass to his advantage sliding fast and hard to scoop the ball right off Ricke's foot.
With only two minutes remaining in the half, sophomore forward Max- Jenks Gilbert received his final warning and a yellow card from the referee. The Patriots went into the break leading 1-0.
The rain began to fall harder, and more bodies began to slide after the halftime break. The battle for the ball was back and forth between the teams.
In the 63rd minute, sophomore Levin Sandmann cut back and ripped a left foot shot from 15 yards. The shot whipped past the keeper to double the FMU advantage. After a scuffle between Sandmann and Lujan, Lujan received a yellow card and Sandmann was given his final warning.
Tempers were flaring until Jonsson received a pass from Ricke and finished his one on one opportunity with the goalkeeper.
Because the Patriot defense played tightly, a freshman goalkeeper, Jonathan Mannes, did not have to stop many goal attempts. He finished with one save while tallying another shutout for the Patriots. It was his fourth of the season. FMU dominated possession and outshot the Hawks 14-6. With the win, the Patriots improved to a 4-2-1 record.