Meet The Athletes, Casey Murakami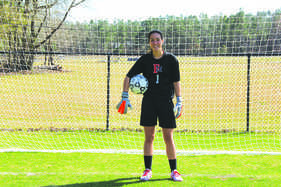 Casey Murakami is not just a sophomore keeper on the FMU women's soccer team, but she is also an industrial engineering major who shares the exact same enthusiasm for school and sport.
Murakami said she hopes that learning about engineering in class will help her accomplish her dream of becoming an Air Force pilot firefighter.
She began playing soccer after her elementary school teacher held a soccer event at her school in honor of a classmate who had recently died. She immediately took a liking to the sport, and her involvement in other sports gave her the athletic ability she needed for her new hobby.
Murakami said she was destined to play goalkeeper at the age of 15. The club team she was playing for lost a goalie after the girl who formerly held the position walked out in the middle of the season. She switched positions and, once again, it was love at first sight.
Murakami said she prefers playing goalkeeper. "I love it," Murakami said. "I'll never go back. They run so much."
She is even a fan of the added pressure that comes along with being between the pipes.
"Everyone is scared but I love it," Murakami said. "Nerves are a good thing. If I was ever not nervous about something, it didn't turn out right."
Murakami said the nerves of being on the field exhilarate her. She said she does what all great athletes do and turns her nerves into adrenaline and thrives in the pressure situations.
Murakami remembered doing this in her club team's semi-final game of the state championship tournament where she saved three of the opposing team's penalty kicks to help propel her team to the finals eventual state championship during her senior year of high school.
The tournament was a defining moment in which she realized that soccer was no longer going o be just a hobby, but it was turning into a job and something that she was going to have to make the decision to get serious about, Murakami said.
She said she recalled all of the people watching her championship game and remembered the awe she felt when she saw the field surrounded because they were lucky to get 30 people out to her team's game.
"Until you're in that situation, you never really know how much a few seconds really mean to a person," Murakami said.
After that win, FMU recruited Murakami, she said.
"This school just felt good to me," Murakami said. "I felt comfortable here."
She said her favorite thing about FMU is the small class sizes. Murakami said she is very passionate about the small classroom sizes, saying that it's easier to learn, and she is able to loosen up and feel more comfortable with the classes being small versus studying at a larger university.
Murakami said she loves to surf when she isn't playing soccer or sitting in class. During her free time, she can be found visiting her nephews living in Darlington, perfecting her drawing skills or even watching television, she said. Her favorite shows include "Archer," who her cat is named after, and "It's Always Sunny in Philadelphia."
"They are the only things that are mentally stimulating," Murakami said. "I like witty humor."
Murakami said she is pumped for next fall as the FMU women's soccer program transitions down to D2 and welcomes about 10 new freshmen. She is proud and excited to be at FMU during the beginning of the new era and described the feeling in only a way she can: "It'll be like freshman year all over again.