Patriots defeat Brevard Tomatoes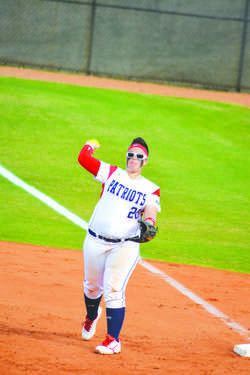 FMU beat Brevard College 3-1 and 5-0 en route to a sweep of the afternoon's non-conference softball doubleheader on March 3.
The second game was called in the bottom of the fifth inning due to rain. Freshman catcher Chelsea Welty belted her teamleading fourth home run of the season, and senior first baseman Shannan Lopez hit a grand slam.
In the opener, senior right-hander Shelby Kelley allowed only five hits, walked none and struck out nine players. She worked around a bases-loaded situation in the top of the first inning to limit any further damage from the Tornados. Brevard would scratch across a run in the inning on a single into right field.
Senior designated player Mykah Nevin tied things up for FMU in the bottom of the third inning with an RBI-single into center field. The knock extended Nevin's hitting streak to six games. With Nevin standing on second base, Welty would send a ball over the left field fence to give the Patriots a 3-1 advantage.
Brevard looked to cut the margin in the top of the fifth inning with a pair of two-out base runners. The Tornados would strand the potential tying runs on base as Kelley induced a linedrive to Lopez for the third out.
Kevin finished the game 2-for-2 with a run scored. Welty and Lopez both went 1-for-3 at the plate, with Welty picking-up her sixth multi-RBI game of the season.
In the second contest, the Patriots scored four runs in the bottom of the third inning off Brevard senior righty Jamie Hrobak. The inning would be highlighted by a grand slam down the left field line off Lopez's bat, giving FMU a 4-0 lead.
FMU tacked on an insurance run in the bottom of the fourth inning as they chased Hrobak from the circle. Junior right fielder Danielle Myers worked a lead-off walk forcing the Tornados to bring in freshman righty Ricki Kuhn. Four batters later, junior second baseman Taylor Brunson would make it 5-0 FMU with a sacrifice-fly into the right field.
Sophomore right-hander Samantha Wroblewski surrendering just two hits, walking none and fanning seven.
Lopez was 2-for-2 in the second contest with the four RBIs, while junior left fielder Briana Barzola and junior center fielder Mikala Barnhart had one hit apiece.
Hrobak took the loss in both games for Brevard. Kuhn tossed 2.2 scoreless innings of relief for the Tornados, allowing two hits and walking a pair. At the plate, Hrobak finished the day 2-for-5 at the plate with the lone RBI.