Pats fly past Hawks, take victory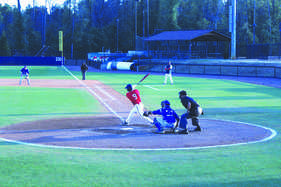 Three FMU pitchers struck out 15 batters, and sophomore designated hitter Brooks Kennedy rapped out four hits as the No. 17 Patriots defeated Chowan University 6-2.
In addition to his hits, Kennedy also scored two runs. Three Patriots registered two hits apiece: senior left fielder Casey Clauss, senior right fielder JD Crowe and senior first baseman Randy Loew.
Crowe extended his streak of safely reaching base to 48 games with a twoout walk in the bottom of the first, and a later single pushed his current hitting streak to nine games. He also walked twice to reach base four times.
Senior right-hander Brandon Cook walked no one in his six innings of work. Junior right-hander Jacob Shumate tossed two scoreless innings to earn his first save of 2016.
FMU opened the scoring in the bottom of the third inning with a pair of runs. Junior shortstop Antonio Pino reached on a two-out fielding error and then stole second base. Crowe walked to put runners on first and second, and Loew followed with a two-run double, laced just inside the third base bag and down the left field line.
Cook escaped a firstand- third no-out situation in the top of the fourth inning by getting a strikeout for the first out and then inducing a double-play grounder.
FMU entered the contest second in Division II in sacrifice flies. The Patriots added to their season total in the fourth inning when senior centerfielder Shuler Ward flied out to center to plate Kennedy, who had led off the frame with a single.
Junior catcher Aaron Flanagan trimmed the margin to 3-2 with a towering two-run homer in the top of the sixth. The long-ball was one of three hits to start the frame that chased Cook. Senior righty Chance DuCharme entered from the FMU bullpen and proceeded to strikeout the side and leave the potential tying run in scoring position.
In the bottom half of the sixth, Clauss restored the three-run advantage with two-out two-run single rough the left side.
Lefty Will Edwards took the loss for the Hawks as he allowed five runs in six innings. Chowan drops to 3-10 on the season.
A two-out RBI infield single by Pino in the eighth accounted for the final FMU tally.