Meet The Athletes: Camille Dash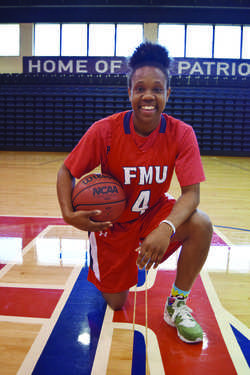 Camille Dash has been playing basketball since she was old enough to walk.
She said she might as well have been born with a basketball in her hands. It wasn't long that her father realized her natural ability for the game. Not only did she have a sixth sense for the game of basketball, but she absolutely loves playing the game. After years of playing, four of which have been spent at FMU as a member of the women's basketball program, she is still in a committed relationship with the game and is exploring her options to play after school overseas.
Dash played a key role in her final year of eligibility at FMU leading her team to a regional title in the National Collegiate Athletic Association, better known as NCAA, tournament from the point guard position; a position that she had not played much of.
"I really had to work my way into becoming a point guard. You have to lead the team and run the office. There are a lot of things that go on behind the scenes of being a point guard. It's harder than just being a scorer."
She made the transition this year into being a full time point guard. That was just one of the hurdles that Dash has faced at FMU as her team has tried to "restore the legacy," a phrase that has been used to describe the most current season of FMU women's basketball.
The hardest thing that Dash said she had to overcome was just putting her junior season in the past and keeping a positive attitude when her senior season rolled around. Dash and her team made history making it all the way to the elite eight in her final season, which was her proudest FMU memory. Not only was the FMU women's basketball team able to make it far in the post season, but they also won their homecoming game this year, which was a goal that Dash set at the beginning of her final season as a Patriot.
All of the work that she put in all four seasons really paid off for her in her final season, she said. "My first three years were tough but this last one made it all worth it," Dash said. Dash is a mass communication major, but hopes that after basketball is over, she will find herself in a classroom helping to mold the rising generation into a group of respectful adults just like her teachers did. She said that she has been blessed with great teachers all the way through school starting at elementary school, which is what she hopes to teach.
Her father is teacher, and he has been an inspiration to her not only in the professional world but her basketball world. He was the one who taught her the game and both of her parents have been there for her at almost every game to cheer her on and give her tips from the stands if she was having a bad game. Dash explained how important it is to her to look up in the stands and see her parents sitting there cheering her and her team on to victory.
When Dash isn't on the court, you can find her conversing with her friends or listening to music. Her favorite artists, include Lauryn Hill and Kanye West. She also enjoys reading her favorite books, being "A Series of Unfortunate Events."
Dash said the one thing that she will miss the most is playing at home in front of the wonderful fan base, which included Dr. Shannon who has definitely left his mark on her even though she never had him for a professor. He would always show up to every game with his family to support the team, Dash said she his words of encouragement.
Dash will certainly be missed at FMU, but she had one more thing to say before passing the torch on to her teammates.
Dash said, "It was real. I loved playing here. I want to thank my teammates for busting their behinds like I busted mine. I want to thank my coaches for making it so easy for us to play the game we loved. I just really loved playing here. Thanks to everyone who has supported me."