Patriots conquer Montevallo Falcons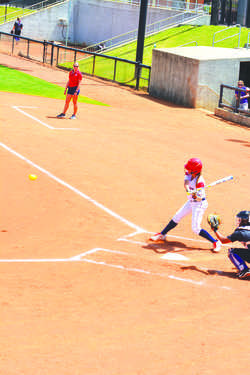 The Patriot softball team celebrated Senior Day with a 2-0 win over conference opponent, the Montevallo Falcons.
Senior Shelby Kelley got the start for the Patriots, only allowing two hits in the final game of the regular season.
The bats were active for the Patriots early on, loading the bases with one out in the bottom of the first. Montevallo made a force out at home and watched as FMU freshman Chelsea Welty hit a pop fly that was secured easily by the Falcons' outfield.
The Patriots forced a 1-2-3 inning, highlighted by two Kelley strikeouts. They carried the momentum into the home half of the inning with a single by junior Kaylee Childress. Childress, who was advanced to third by two sacrifice plays, crossed home plate when a wild pitch got away from the Falcon catcher, giving the Patriots an early 1-0 lead.
In the bottom of the third, junior Taylor Brunson looked to add to the lead smacking a double to the warning track only to be left stranded on second. The fourth inning yielded no excitement as both teams went three up and three down.
Kelley gave up one hit in the away half of the fifth inning, but the Falcons were unable to bring the runner home leaving her at first. The fifth inning did, however, bring some excitement for the home team. After junior Briana Barzola reached on an error a catcher's interference call, which not only led to runners on first and second for the Patriots, the mistake encouraged a heated debate between the Falcons' head coach and the home plate umpire.
With runners on first and second, freshmen Taylor Johnson ripped a line drive that deflected off of the glove of the Falcon pitcher, leading to senior pinch runner Kristen English crossing the home bag to give the Patriots a 2-0 lead.
The Patriots protected their lead in the sixth inning with an acrobatic scoop by freshman shortstop Taylor Johnson. After making the play at first, Johnson found herself in the action again on the next at bat where she threw the ball in the dirt under the first basemen. The ball eventually found its way to second base where the Patriot defense was waiting for the aggressive Falcon runner, getting the second out of the inning. Childress was called upon next catching the high fly ball into right field to end the inning.
Childress attempted to add to the lead with a long double but remained on second base, watching two of her teammates lose the battle with the third Falcon pitcher of the night. In the bottom of the sixth, Montevallo attempted to rally with their first batter being hit by a pitch. The next-at-bat was a smash to the warning track, short only by a few inches of tying the game. The final out of the inning came on a fourpitch strikeout cementing the shutout for Kelley.