The ForePlays educate and entertain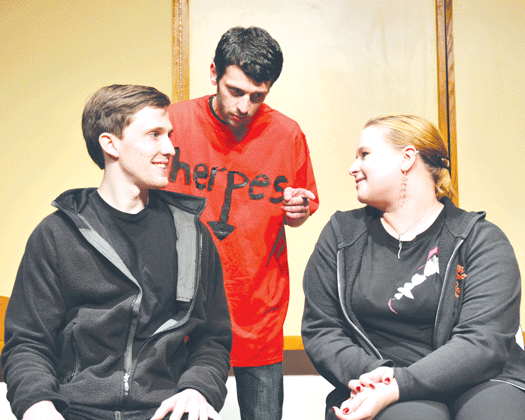 Over 150 students and faculty of Francis Marion University (FMU) gathered in the Kassab Recital Hall to explore the topics of sex and disease through the presentation of ForePlays.  Presented on Tuesday, Feb. 26, the plays were sponsored by FMU's gender studies program during FMU's V-Week festivities.
Dr. Jon Tuttle, professor of English and director of the honors program, said he had not expected the event to be so well received.
"We only printed 100 flyers, and we ran out," Tuttle said. "There were people standing because there were no more seats available.  I was delighted."
Dr. Pamela Rooks, professor of English and coordinator of the gender studies program,     also said she did not anticipate the size of the audience.
"I did not expect such a large turnout," Rooks said. "We had people sitting on the floor."
According to Tuttle, the idea for the plays originated with FMU's Manager of Health Services, Tracy Aniello.  After becoming alarmed by the number of sexually transmitted diseases and unplanned pregnancies on campus, Aniello pitched to Tuttle the idea that eventually became the ForePlays.
Tuttle said FMU students of all majors were encouraged to write and submit plays relevant to sex, STDs and sexual identity.  From the plays submitted, four were chosen to be performed.
"The four plays that were chosen each had their own subject," Tuttle said. "The subjects were herpes, HPV, religion, and promiscuity."
Rooks, who directed a play entitled "You Gave Me Cancer," explained that the play centered around human papillomavirus (HPV) and the health issues it can cause. Rooks said that she was especially satisfied with the students who participated in the ForePlays.
"I am really proud of the students in the play that I directed," Rooks said. "I thought the quality of acting in all of the plays was great."
Carissa Fazio, an FMU graduate with a degree in psychology, submitted a play named "Wildfire."  According to Fazio, the play is about the spread of the herpes virus.  Fazio said she hoped to portray the importance of communication between partners and taking responsibility to help stop the spread of STDs on campus.
"Dr. Tuttle asked me if I had any ideas for a play, and I had read information about herpes and how it is spread," Fazio said. "I wanted to portray that in a way that was funny but still serious."
According to Tuttle, the playwrights retained copyright ownership of their plays and are encouraged to submit them elsewhere for production or publication.