Staff Spotlight: Kimberly Ellisor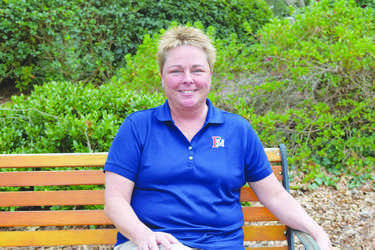 Kimberly Ellisor, FMU Director of Financial Aid, grew up thinking she would be unloved if she confessed her sexuality but recently celebrated being the first woman to apply with her partner for a marriage license in Florence, S.C.
Ellisor grew up in a typical two-parent household in Sumter, S.C. She, her sister and her parents lived as a middle-class Christian family. When Ellisor said she was around 5 or 6 years old, she remembered having a crush on her babysitter.
"It was like when you have a crush on a teenage boy," Ellisor said. "It was the same thing with a girl."
As she grew older, she said she became closer to her friends. When Ellisor was around 10 years old, she realized that she was different than the other kids.
"I didn't know there was a word for it," Ellisor said. "Somehow I just knew not to talk about it, not to share with anyone how much I thought about and loved my friend."
Growing up in the south had an affect on how Ellisor saw herself, she said.Some of the lessons she learned in school made her feel like something was wrong. Since she wasn't openly gay, people would say in her presence that being gay was wrong, tell gay jokes and use slurs. What they didn't know, Ellisor said, was that they were talking about her and programming her.
"As a child, society taught me that there were a lot of things that were sins," Ellisor said. "However, it was made clear to me that being gay was one of the worst abominations. I felt dirty. I felt ashamed. I felt scared."
Ellisor said some words describing how she defined herself growing up were "lonely, isolated, less than, a mistake, sinful and something that was broken and needed to be fixed." She said those feelings carried on into her teenage and early adult years.
While Ellisor said she tried to keep her orientation a secret because she feared her family would stop loving her, her life was revealed when her mother found letters to Ellisor's girlfriend in high school. Ellisor said she was taken to a psychiatrist who treated her in a way that was out of the ordinary for that time.
"He said, 'She's gay. And we can work on everybody adapting to that, but I'm not going to try and fix her because there's nothing to be fixed," Ellisor said.
When Ellisor reached her early 20s, she realized she belonged and was not alone. She visited her first gay bar with a friend and said she finally felt like she had a safe community. But even though Ellisor found others like her, she hadn't come to terms with her orientation.
Ellisor said it wasn't until George Bush, Jr. ran for president that she told her colleagues that she was gay. Bush's condemning of gay marriage and want to prohibit gay people from having the same rights as straight people gave Ellisor the courage to tell everybody her secret.
"I didn't realize how much I was in the closet," Ellisor said. "I shook physically telling [my colleagues] and wept because I was so terrified of their reaction. I didn't realize the fear that had been programmed into me all this time, so what I thought was out of the closet, wasn't even close."
After that, Ellisor said that things started turning around. With marriage equality and the changing opinion that homosexuality is biological and not a choice, Ellisor said that she has a quality of life that she never thought she could have.
"I was out the other night, and people who were couples were sitting on each other's laps and holding hands and doing nothing more than what all the straight couples were doing," Ellisor said. "Nobody was looking. I never thought that would ever happen."
While Ellisor said that there are still issues with equality, the leaps that legislation has made and the positivity she has received have encouraged her. Ellisor said that students who struggle with their identity should be confident in who they are.
"You are equal," Ellisor said. "You are just as important, and you are unique. You have things to offer this world that not everybody else does. You have an opportunity to just be yourself and to be a role model, to make a difference. Don't hide who you are. Embrace who you are. We've paved the way for you to be comfortable in your own skin. You are not something to be fixed."