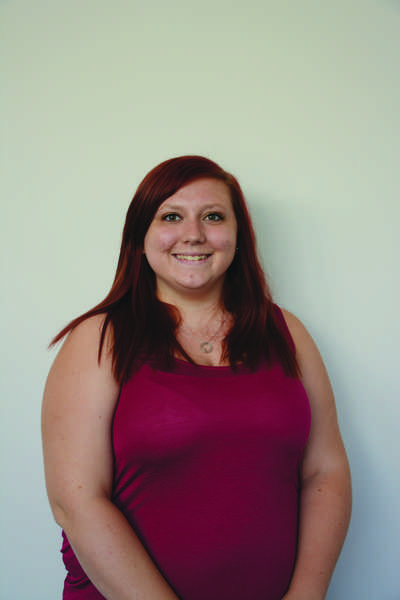 Hometown: Mullins, SC
Major/Minor: Psychology/Chemistry
Why did you come to FMU? I came to FMU for a scholarship interview just to see how it would go. I ended up falling in love with the campus and faculty.
Why did you want to work for The Patriot? I work for The Patriot because I enjoy writing, and it gets me involved around campus.
Interesting Fact: I have traveled to Germany as a FMU Honors Ambassador, and I am Editor-in-Chief of Snow Island Review, FMU's literary and art journal.
Favorite Candy: Pink Starburst
Anna Jackson, Staff Writer
Apr 14, 2017

Anna's Adventures: Logan

(Story)

Apr 05, 2017

10-minute play festival returns to FMU

(Story)

Apr 05, 2017

McNair Scholars, Honors Ambassadors travel to Italy

(Story)

Feb 26, 2017

The Last Chapter: Anna Jackson

(Story)

Feb 26, 2017

Anna's Adventures: "A Series of Unfortunate Events" by Limony Snicket

(Story)

Feb 22, 2017

Andy Timmons performs during artist series

(Story)

Feb 12, 2017

Anna's Adventures: Victor's Bistro

(Story)

Jan 13, 2017

Anna's Adventures: Addie's Baby Paint Studio

(Story)

Jan 12, 2017

Problem With Resolution

(Story)

Jan 12, 2017

Christian Brunetti: Turning dreams into reality

(Story)

Jan 12, 2017

Seniors display artwork

(Story)

Jan 12, 2017

GSA hosts LGBTQ+ dinner

(Story)

Nov 19, 2016

Intramural sports rankings

(Story)

Nov 19, 2016

Anna's Adventures: "Redeployment" by Phil Klay

(Story)

Nov 18, 2016

SIR, GSA sponsor student poetry slam

(Story)

Nov 18, 2016

Students, professors mingle at pastries event

(Story)

Nov 17, 2016

FMU hosts annual literature festival: Pee Dee Fiction and Poetry Festival returns to campus

(Story)

Oct 30, 2016

Anna's Adventures: "Miss Peregrine's Home for Peculiar Children"

(Story)

Oct 29, 2016

Be aware, be accepting

(Story)

Oct 27, 2016

Students present "Blues for an Alabama Sky"

(Story)

Oct 27, 2016

Students experience cultural diversity during international food festival

(Story)

Oct 19, 2016

Anna's Adventures: Dolce Vita: a place for coffee, wine

(Story)

Oct 19, 2016

It's more than facts

(Story)

Oct 14, 2016

Career Development talks to fraternities, sororities

(Story)

Oct 14, 2016

KD hosts confidence booth

(Story)

Oct 14, 2016

Nursing students administer flu shots

(Story)

Sep 22, 2016

Fraternity holds 9/11 remembrance

(Story/Media)

Sep 22, 2016

Nursing students to administer flu shots

(Story)

Sep 22, 2016

Vietnam combat nurse to speak

(Story)

Sep 22, 2016

'Discovery Day' explores galaxy

(Story)

Sep 22, 2016

Nursing program named Center of Excellence

(Story)

Sep 22, 2016

Anna's Adventures: Starfire Grill

(Story)

Sep 21, 2016

Intramurals help students gain skills, stay active

(Story)

Sep 21, 2016

Anna's Adventure: "Harry Potter and the Cursed Child"

(Story)

Apr 20, 2016

Anna's Adventures: Flavors of India

(Story)

Apr 20, 2016

FMU hosts career fair for students

(Story)

Apr 20, 2016

FMU honors societies induct new members

(Story)

Apr 20, 2016

Arts International immerses Florence in ethnic cultures

(Story)

Mar 30, 2016

BCM students spend spring break in Florida

(Story)

Mar 30, 2016

Anna's Adventures: "What We Saw" by Aaron Hartzler

(Story)

Mar 30, 2016

An Isolated Perspective

(Story)

Mar 09, 2016

Student shares his transition story

(Story)

Mar 09, 2016

Fine Arts features new Artists

(Story)

Mar 09, 2016

Anna's Adventures: A Review of "Deadpool"

(Story)

Feb 24, 2016

Homecoming attendees participate in tailgate, auction

(Story)

Feb 24, 2016

FMU community, student concert band presents Vision of Lights

(Story)

Feb 24, 2016

Anna's Adventures: My new study spot

(Story)

Feb 24, 2016

Athletic departments inducts members into Hall of Fame

(Story)

Feb 02, 2016

Anna's Adventures: Paper Towns by John Green

(Story)

Jan 15, 2016

School of Health Sciences announces new dean

(Story)

Jan 15, 2016

The Mirrors of Society

(Story)

Jan 15, 2016

Anna's Adventures, Star Wars VII: The Force Awakens

(Story)

Dec 02, 2015

Visual arts seniors host 'Color Talks' showcase

(Story)

Dec 02, 2015

Anna's Adventures, Jumping J's: A fast food diner

(Story)

Dec 02, 2015

A War on Christmas

(Story)

Nov 11, 2015

FMU holds logo contest for Research and Exhibition Day

(Story)

Nov 11, 2015

Students get to know English, modern languages faculty

(Story)

Nov 11, 2015

Professor Spotlight: Dr. Ronald Murphy

(Story)

Nov 11, 2015

FMU theatre department performs "The Tempest"

(Story)

Nov 11, 2015

ACS members share chemistry, color with FMU

(Story)

Nov 11, 2015

Anna's Adventures, "Station Eleven" by Emily St. John Mandel

(Story)

Oct 21, 2015

Meet The Athletes: Alexzandra Reed

(Story)

Oct 21, 2015

Don't judge a book

(Story)

Oct 21, 2015

ZTA, Florence community race for a cause

(Story)

Sep 30, 2015

Be A Part of the Revolution

(Story)

Sep 30, 2015

University life students learn about FMU services

(Story)

Sep 30, 2015

FMU and Florence communities converge through the cosmos

(Story)

Sep 05, 2015

Students bond playing ultimate Frisbee

(Story)

Sep 03, 2015

Higher education for all

(Story)